You are here:
Meet Chro and Buki
Women have the #PowerToChange the world. We see it happen all the time. In the face of inequality and conflict, women make small, positive changes which in time have a lasting impact on their families, on their communities and on society as a whole.
On International Women's Day 2022, we want to elevate the voices of the changemakers in the countries we work. These are women who are demonstrating their #PowerToChange social norms and are committed to creating a ripple effect for generations to come.
The power to make a small but mighty difference lies within all of us.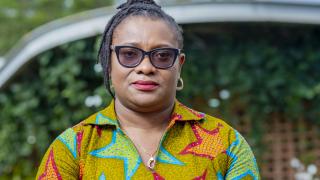 Bukola Onyishi
I am originally from the Southeastern part of Nigeria. Now I am from the Southwestern part, by marriage. I now work and live in Northern Nigeria.
I have been working for Women for Women International for 21 years.
Early in life, I observed and experienced the preference society has for the male gender. My grandmother would treat my immediate junior brother differently and I challenged it. Luckily, my parents treated us the same (me, my four sisters, and two brothers). We all had the same opportunities and everything turned out well. This opportunity is what I want to see for everyone.
I joined Women for Women International as a Field Officer (Social Empowerment Trainer). I have been captivated by the opportunities that marginalised women have had since joining the programme - what they are able to do for themselves, their families and their communities when given the chance.
A woman tracked me down some years ago. She came to say thank you.
She said, "I still do not have a child, my husband went ahead and married another woman and they have five kids together. I am still trying. Thank God I know better, I take care of myself. I am doing well with my farm. I started poultry, expanded with a loan I got from the bank. I stopped because of the outbreak of bird flu and will start again when it is over. I also buy and sell my farm produce." In her culture, with no child, people may not even want to see her seen happy.
I have seen women make informed decisions in the programme about their health - nutrition, hospital checkups, resting. I see them raising their boys differently from the norms and societal beliefs. They are saving regardless of their meager income and gradually becoming economically independent. They lead their saving associations and some have become federations.
I listen to the success stories women share and I wonder what their lives would have been if they'd had the opportunity much earlier in life to be educated.
I would like to see education made compulsory for all children, particularly girls who will later become women. In my society, girls' education is not prioritised.
Chro Mohammad Salih
I have a master's degree in International Relations. I am very interested in women's empowerment and passionate about gender equality. I am also very interested in engaging with active groups of women who are advocating to strengthen women's roles at the family and community levels. 
I am living in Erbil, in the Kurdistan Region of Iraq, currently. I have an amazing and supportive family.
My passion for women's rights started when I was in primary school and received a copybook which was written in the Kurdish language. Sentences from the Kurdish grammar classes made me ask why different characteristics were used to describe girls and boys, such as "Sharmen is beautiful and soft" while "Ahmed is brave and intelligent". Even as a child, these drove me to care about women's rights. I kept asking the school why these differences were there. 
According to my experience, women's abilities and strengths have not been seen. The challenges that women are facing are great. Women cannot easily achieve their dreams and goals, and women's ability has always been undermined and taken for granted. In the workplace, education and business, women's abilities have not been recognised as they should. Even when a woman is better than the men, only the men are praised.
I always believe that if you educate a woman, you educate a family and community.
My dream is to see many women in different roles. I am always hoping women and girls follow their dreams and goals regardless of cultural norms. 
What makes me happy is that women keep trying and keep pursuing their rights, in particular the women we are serving at Women for Women International. They have not been allowed to complete schooling and work outside of the house. The hope in their eyes makes me keep trying.
I believe that women can play a great role to change society, and a family's attitude towards women is very important - my experience is a good example. I have faced different kinds of challenges to be independent and pursue my goals while having a supportive family, but it's the society creating blocks for women to become visible and play a role. My mother has been trying so hard to make me and my sisters not give up on our dreams, but to follow them. With her power, I reached my goals and keep working on them. She taught me to be independent, to believe in myself, to speak up, and to not stay silent in the face of any issues. She taught me not to stay silent when I am being disrespected.
She taught me that freedom is something from within, to be let out. She taught me that educating women and girls can make a big difference.
Do not wait for anyone else to see your value when in this male-dominant and conservative society, women and their abilities are invisible. 
My hope, my dream, my goal is to see women not give up on their life's ambitions, no matter what barriers they face. I hope women will not stay silent when faced with any kind of violence, and they should not be afraid of speaking up.
Read more from our global team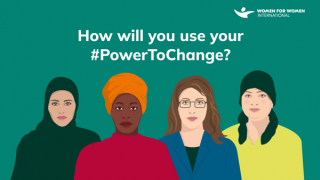 On International Women's Day 2022, we want to elevate the voices of the changemakers in the countries we work. These are women who are demonstrating their #PowerToChange social norms and are committed to creating a ripple effect for generations to come. Meet Khalida, Latifa and Zainab - women in our global team who have shared their inspiration, changes they've seen, and their hopes for the future.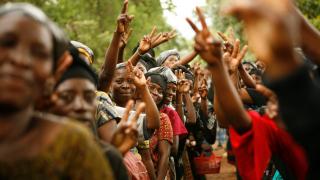 20 JANUARY 2022 | INTERNATIONAL POLICY DIGEST

⁠Bukola Onyishi, Country Director of our Nigeria programme, and Maria Fernanda Espinosa, former President of the UN General Assembly, share their insights on violence against women in Nigeria and reflect on our programme data.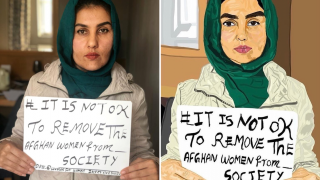 Latifa Faqirzada worked for Women for Women International - Afghanistan for nearly four years. With the help of the UK government, she left Kabul in August 2021 during the final days of the US/UK troop withdrawal. She is currently residing in London and advocating for the women who remain in Afghanistan. This blog is her personal story.