You are here:
Laurence's Experience in Rwanda
IN NOVEMBER 2017, LAURENCE GREENING, WOMEN FOR WOMEN INTERNATIONAL- UK'S SPONSORSHIP AND DATABASE COORDINATOR, VISITED RWANDA TO MEET OUR PROGRAMME PARTICIPANTS AND GRADUATES, INCLUDING RWANDA'S FIRST ALL-FEMALE BUILDING BUSINESS.
I have worked for Women for Women International for nearly 5 years now because I passionately believe in equality, and the work that we do.  At the end of last year, I had the incredible privilege of visiting our country programme in Rwanda. I was blown away by what I saw and the incredible women that I met.
My trip began by visiting one of our training programmes in Rutunga, in central Rwanda, where the women were in the middle of module 2, learning about health and wellbeing. Just an hour and half's drive north of the bustling streets of the capital Kigali and its stunning new convention centre, we wound our way up into one of the thousand hills that Rwanda is so famous for, to an isolated, rural village so in contrast to the rapidly developing city we had just left.
That day, the lesson was about HIV awareness, always a difficult subject, made even more pertinent by the fact that two of the women in the training group shared their status as HIV positive. But there was no sense of unease, instead we were greeted by a warm wave of singing and laughter as the women erected the tents, preparing for class. As the teaching began and the women took turns to answer the trainer's questions, their responses were met with encouraging smiles and applause from their classmates. I felt surrounded by the sense of sisterhood that we so often speak of as being at the core of Women for Women International's work. It was a privilege to witness the tight bond of support that the women had created between themselves.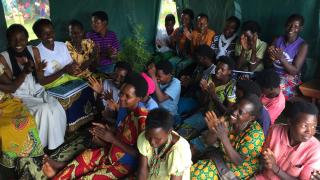 This bond built in the classroom extends far beyond its canvas walls. One woman told me that not long after joining the programme she sadly lost her home due to flooding. Living alone and without the means to rebuild it, her ability to continue attending classes was at risk. On hearing this, her entire class decided to come together and rebuild her home. This reminded me of a wonderful quote from one of the participants of our programme in Iraq. When she was asked about her experience of training she said: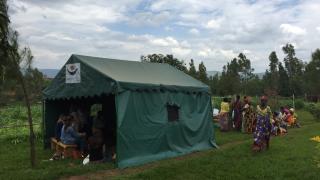 Following our visit to the classrooms we travelled to the small village of Masizi, an hour's drive further south in the Bumbogo Sector, where I had the opportunity to meet some of our programme graduates, now putting what they had learnt in to practice.
There was one group of 25 women who decided after graduation that they did not want to break the bond of sisterhood they had forged in the classroom. They set up a cooperative business group. Together, they represent the first all-female building business in Rwanda and when we visited they were busy working on their first major contract of 1,000 cinder blocks. This was hard, physically demanding work in the sapping heat. I have never seen builders in the UK doing this hard work with young children strapped securely to their backs – a real testament to the strength of women!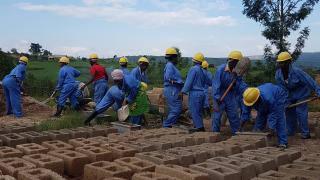 The most inspiring thing about them, however, was their combined aspiration. Their goal was to earn enough money so that they could afford to build a new home for every single member of the cooperative.
Whilst I had been excited before my trip, I wasn't expecting it to have quite such a profound impact on me. Since I've come back from my trip I have been telling everyone I know about it. I feel a sense of responsibility to share these women's stories with my friends and family – and other men, too.
The sisterhood is not just for women – my experience in Rwanda proves quite the opposite! Achieving gender equality is a shared effort, which benefits everyone. Families and communities are stronger and more vibrant when women are able to break free from stereotypes and chase their ambitions, like the women I met in Rwanda.
Having seen first-hand the passion and resilience of the women in our programme, witnessed the strength and determination of the graduates and having been enveloped in the warmth of their sisterhood, I am in awe of what we are achieving together.
Take action today!
Our #SheInspiresMe campaign celebrates the vital contributions that all women make - from women entrepreneurs in Rwanda, to our closest friends and family. Elevating women strengthens the social fabric of societies everywhere.
Join the sisterhood today to lend your voice to the movement for gender equality.
Turn inspiration into action - sign up for our first ever #SheInspiresMe LIVE Feminist Festival and build your activist toolkit to become a women's rights champion!
Read More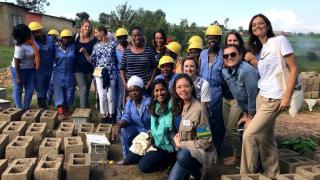 In November 2017, Women on a Mission, a charity that champions women survivors of war around the world, visited our programme in Rwanda. Christine Amour Levar, Co-Founder of Women on a Mission, writes about their experience.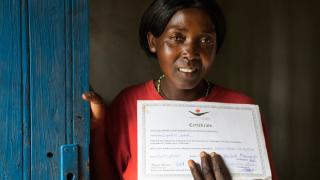 I was alone and had to take care of the children who were all very young at the time. I couldn't imagine them growing without their father around. He was the one who provided for them.