You are here:
It's time to break the silence and stop sexual violence in Nigeria
Buki Onyishi, country director of Women for Women International - Nigeria, speaks out on the pandemic that is plaguing her country: sexual violence
In Nigeria, we have been in lockdown the past few months but our country has been plagued by another pandemic for years that targets women: rape. In the last five months, over 700 cases of rape were reported across the country. The rise in sexual violence prompted the government to declare a state of emergency.
South of me in Abuja and Lagos, my fellow women have taken to the streets to protest this pandemic and the gender-based violence women endure. But alongside news of their campaigns to end sexual violence, I see other horrifying articles that remind me how much further we have to go. Women and girls of all ages – some as young as two years old – are not safe. Even family members cannot be trusted. The protestors' rallying cries to raise the voice of women everywhere to break the shield of silence that protects rapists and prevents progress.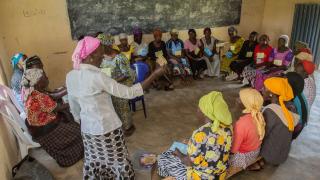 A Culture of Silence
The problem is that in Nigeria, the wrong people carry the shame of rape. Even though they are the victims, women end up stigmatised, ridiculed, and blamed for rape, sometimes by their own families. And if families support the victim, they only go so far for fear of being stigmatised themselves.
There is no justice for women. Rather than put themselves out there, victims' families agree to settle cases out of court. Why bother when so many law enforcement officers take rape accusations lightly and blame survivors?
Community leaders encourage victims and their families to compromise with rapists to keep the peace. Survivors and their families feel pressure to settle the case at home or the community level rather than through the legal system. Perpetrators get away with a slap on the wrist and maybe a small fine. But for women, there is no peace. What I've seen in my many years of working with women is that instead, they live with the pain. Some end up forced to marry their rapists to maintain "peace."