You are here:
International Day of the Girl: Passing down the power
International Day of the Girl: Passing down the power
INTERNATIONAL DAY OF THE GIRL IS A DAY TO CELEBRATE THE INCREDIBLE POWER OF GIRLS: THE POTENTIONAL OF GIRLS' STRENGTH AND TALENT TO CHANGE THE WORLD
Year after year, the 11th October marks International Day of the Girl – but this must be more than just another day in our calendars.
Every day, girls continue to feel unsafe and unheard. This has to change.
In the 17 conflict-affected countries where we work, we invest in the power of women survivors of war to change their own lives and transform their communities for generations to come. The marginalised women we reach live in extreme poverty, are directly affected by violence and conflict and endure myriad forms of social and economic disadvantage. Over half the women who join our Stronger Women, Stronger Nations programme are illiterate, all earn less than $1.25 a day, and many are widows, refugees or survivors of rape and abuse. These stark disadvantages must not affect their daughters too.
Women in our global teams and programmes are passing on their power to the next generation, investing in girls' potential to change the world: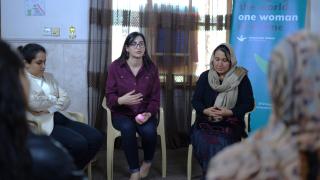 In Iraq
Khalida, Programme Officer at the Shekhan training centre, shares:
"As a woman, I see the power in myself. Little by little, thanks to our work, I see women in my community realise their potential. I want to use my power to support women whose voices are unheard, women who don't dare to speak up and women who want to go out and start their businesses and be part of the community. I will use my voice to raise their voices. When my daughter grows up, I will always teach her to follow her heart, respect others, speak up and support women."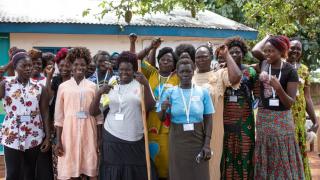 In South Sudan
Change Agents breaking down restrictive norms
Women in our Change Agents programme are using their leadership and advocacy training to bring about social change for their daughters, inspired by their own experiences of repressive cultural and traditional norms. 
In South Sudan, women and girls are traditionally denied educational and economic opportunities. Restricted from earning money, exercising leadership and partaking in decision-making, young girls are often subjected to forced or early marriage for their families to receive a dowry. 
Esther Tabu, Stronger Women, Stronger Nations Programme trainer in South Sudan, emphasises the need for an educated next generation, specifically among girls, to bring about national transformation and development. 
The future of girls should not just be about childbearing.
By advocating for girls who are facing forced marriage, a premature end to their education and sexual violence, Change Agents are establishing a future where their daughters can embrace their full rights and freedoms.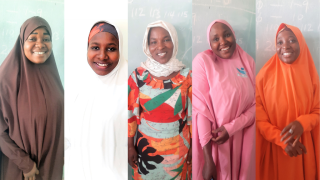 In Nigeria
Educating the next generation
Change Agents lobbied to build a primary school in the Rudugungu community - the first in 50 years.
They said that Rudugungu didn't have any school and most of the children have never attended any formal school. Within Northeast Nigeria, many had been shut down due to security reasons, but a wider issue was also at play: the dismissal of women and their right to education.
Fatima Abubakar, one Change Agent, said:
The change we desire to see is to educate girls and inspire them to achieve their dreams and develop their communities.
Fatima and her group approached the local government of Rudugungu's informal education department to petition to establish a school. It took advocacy, multiple follow-up visits and unwavering persistence and passion - but by October 2021, a primary school opened its doors.
Another Change Agent, Khadijah Umar, described it as a social victory:
We want women to be educated and involved in decision-making at home and in society. We also want more female lawyers, doctors, politicians and entrepreneurs.
She went on: "For all that, we will continue to advocate for girls' education. We wish to see the enrollment of more girls and, if possible, the retention, completion and transition to higher institutions."
Many members of our global teams have seen first-hand how women and girls' power and potential is reduced by restrictive norms. They are inspired to train the most marginalised women in their communities to rebuild their lives and forge brighter futures for the next generation. Every day, we see this impact in our programme participants' fight for social change. 
"I am a survivor of forced marriage," says Sylvia Iyete Jigomoni, a Change Agent. "I got pregnant as a teenager and was forced to leave school and marry the man who impregnated me, which I regret to this day". After Sylvia had her first child, her husband died and she was forced into another marriage. "I wish that I'd continued with my education," she says. Now, she wants to ensure that the next generation of girls does not share her experiences. 
The same trends of violence and discrimination cannot continue. It is wrong, a violation of women and girls' most basic human rights, and it has a knock-on effect on whole societies that increases poverty and inequality.
We know that with the right skills, knowledge and resources, women have the power to change the world. Girls do too.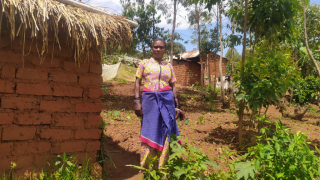 In the Democratic Republic of Congo, restrictive gender norms make it difficult for women to purchase land in their own name. Read Gorette, Furaha and Gentille's stories - three of our programme graduates who have defied the odds and now help other women to do the same.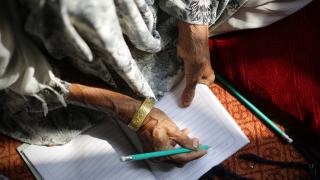 Our community-led approach is championed through our grassroots advocacy, the Change Agent programme. Change Agents drive forward their self-identified priorities to achieve sustainable and long-term change.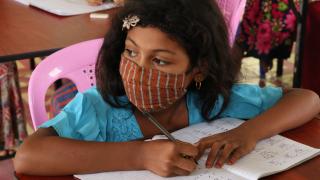 Habiba was forced to drop out of school in 2017 due to the dangers of conflict. She didn't know if she would ever get the chance to finish her education. That was until a Community Learning Centre, funded by Women for Women International, came to her village.