You are here:
"I am more aware, strong, and very confident"
Hassana reflects on her year with Women for Women International - Nigeria
Hassana and her family were forced to flee after the militant group Boko Haram attacked their village. They settled in Bauchi state, where many people have sought shelter from the violence in northern Nigeria.
Hassana joined our programme in November 2019 and has been providing regular updates on her experience over the past 12 months. You can read part one of Hassana's story
here
, where she talks about her life before the programme and the first few months of training.
In March 2020, Hassana's community was plunged into uncertainty when widespread restrictions were imposed across Nigeria to prevent the spread of COVID-19. In her
mid-year update
, she shared how the pandemic has impacted her life and how the training prepared her for the new challenges she faced.
As Hassana prepared to graduate from the 12-month programme in October this year, she shared a final update, reflecting on what she has learned over the past year and her hopes and plans for the future.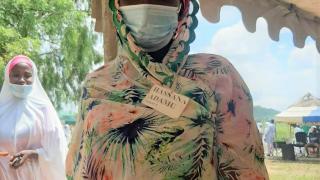 "This is my final month in the Women for Women International programme, and so far, I can only say I now have a 'transformed life'. I am financially stable! I can now take care of most of my needs without much struggle.
After the training on Women's Rights and the Law, I am more aware, strong, and very confident. It is a huge relief to learn that women have same rights as men. This is an eye opener and it has really increased my self-confidence. I now take part in family decision-making and can confidently speak in public. Recently, I told my husband about my desire to start attend adult education to build on my current knowledge. I especially wanted to learn to read and write. He did not argue with me and suggested that I start adult education classes after graduating from the Women for Women International programme, to allow me to properly balance my activities and achieve my best.
Building a bed sheet business
With the resumption of normal activities after the COVID-19 lockdown, I am more financially stable as I have started making and selling bedsheets again. I now have new customers who order for bedsheets as far as from Maiduguri, Borno and Gombe States. In addition, joining a Village Savings and Loans Association (VSLA) and a savings circle group has been of immense benefit too. With our recent VSLA cash share-out, my contributions and interest amounted to N14,200.00 ($37 USD), which I reinvested into my bedsheet business.
During the vocational skills training sessions, I also learned about the importance of diversifying my business. This has helped me balance my cash flow when demand for one product is low but another is in high demand.
A stronger support network
My relationship with my co-wife has greatly improved as we no longer have arguments over the children. I have learned to respect her the way she is, and surprisingly, she has started to respect me in return and love my children more. We both go out together for public events and to the market.
The Men's Engagement Programme has greatly changed my husband's life as he now treats me and my co-wife with more respect. He has started asking for our opinions before taking decisions and he has been actively involved in ensuring good family health and hygiene by clearing the grass around the house and improving the drainage. He spends most of his time at home with us and the children when he comes back from the farm.
During the training on 'Health and Wellness,' I was diagnosed with a sexually transmitted infection and drugs were prescribed. Doctors advised my husband of the danger of not treating the disease as a family (my husband, co-wife, and myself). At first, my husband insisted that he did not have any symptoms of the disease and did not need treatment, I should go ahead and treat myself. But after a serious talk with him, he agreed and the three of us went to the Bauchi State Specialist Hospital where we were all treated.
I have made friends in the programme, both from my group and other groups. My best friend from the programme is Daiyiba. We share ideas and encourage each other all the time. She has been an immense pillar of support.
After graduation, I intend to start a new business trading grain, using my savings from my group saving circle and three months' training stipend which will amount to N28,000.00 ($72 USD). I plan to buy and store the grain in December, at harvest time – when grain is sold cheaply – and then sell it in March or April when the price is much higher, so I can make a profit.
I will also be starting my Adult Education classes, so I can learn to read and write.
My life will never be the same again. From now on, I am taking personal responsibility for my children's education, the girls especially. I am so grateful for the grain and hygiene items that were provided by UK Aid to help us limit the effects of the COVID-19 pandemic. These supplies came as a big surprise and the impact on my family was huge and is still being felt. I pray that other women too will be able to experience a new life as a result of the programme."