You are here:
Double your impact and unleash women's economic power
Donate before midnight on 9th November and your donation will be doubled
A year on, the COVID-19 pandemic is continuing to make life even more fragile for women survivors of war – and your support is needed more than ever. 
COVID-19 has led to the first rise in extreme poverty in a generation, pushing 47 million women and girls into extreme poverty. 
Women in conflict-affected countries are most likely to be at the bottom of the economic pyramid. But we can't lose hope.
Meet the women who have reclaimed their economic power
GRADUATES OF STRONGER WOMEN, STRONGER NATIONS PROGRAMME BUILDING BRIGHTER FUTURES FOR THEMSELVES AND THEIR FAMILIES
Economic empowerment is vital for a woman to start to rebuild her life and create the change she wants to see in her community. It can start small, just making enough money so her family can live comfortably. But as her small business grows, the increased income means her children can go to school, so they can begin to see a future not bound by poverty. She will start to employ other women in her community, and she will discover that when she speaks, people listen. This transformation is taking place in all the countries where our programmes operate. For years women's economic power has been overlooked – with little value seen in their skills or their views. Now that is changing and with their financial independence, they are finding the tools and the opportunities to gain what they have lacked for so long. Their health and wellbeing, their voices, their rights.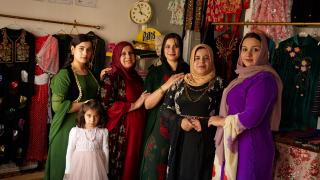 Hanya
In 2018, Hasiba, Rajaa, Najma, Amal, and Shakiba were five of the 300 women who graduated from our Stronger Women, Stronger Nations programme in Iraq. Now they run a successful tailoring shop, and last year they used their tailoring skills to produce masks and help protect their community from COVID-19. Once, Hasiba, Rajaa, Najma, Amal, and Shakiba were counted as vulnerable. Now, they are successful businesswomen sharing the strength, skills, and knowledge they have gained to protect fellow community members who need support.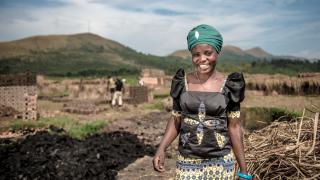 Cinama
"The training programme was practical and helpful. I learned different topics such as economic empowerment and how to be financially self-reliant, women rights, saving in a group, and decision-making. I chose brickmaking as my vocational skill."
After graduating from our 12-month programme in the Democractic Republic of Congo, Cinama went on to start her own brickmaking business. She now shares her knowledge with other women and is looked up to as a role model.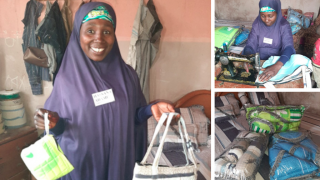 Hassana
"It is a huge relief to learn that women have [the] same rights as men... it has really increased my self-confidence. I now take part in family decision-making and can confidently speak in public."
Hassana escaped Boko Haram and lost almost everything. Since joining Women for Women International she has learnt business skills and started earning her own income, improved her and her family's health and gained hope for a better future.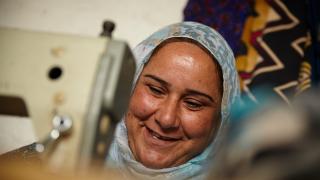 Shireen
"I loved it when I walked across the stage and received my certificate. When they read my name and I stepped up to the stage, I was thinking 'I will open a shop' and this certificate will be framed on the wall of my shop."
Unable to find work as a Syrian refugee in Iraq, Shireen desperately wanted to learn a new skill that could help her provide for her family. Shireen learnt how to sew, but she gained more than the ability to make clothes: she learnt about her worth and value as a woman.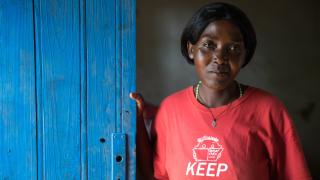 Grace
"Women for Women International taught me how to save, to manage the household. After I joined, my life got back on track. I even bought some small livestock and put my kids through school. By the end of this year, I will have achieved something big. I'm thinking of opening my own shop and expanding my activities."
When Grace's husband passed away she couldn't imagine them growing without their father around. He was the one who provided for them. The Women for Women International programme proved to be a lifeline.