You are here:
Amplifying Marginalised Women's Voices At The Global Level
Carron Mann, Head of Policy and Advocacy, highlights our engagement with the UN's 63rd Session of the Commission on the Status of Women
The UN's Commission on the Status of Women (CSW) is an annual gathering in New York, established in 1946 and held around International Women's Rights Day. It brings together civil society, national governments and international institutions (like the World Bank) to promote and shape global standards on women's rights.   
This year's CSW theme focuses on 'social protection' – policies and programmes designed to support reduce poverty and vulnerability by supporting economic participation (e.g. employment) and building capacity to manage economic and social risks.
This is a key space for us to share our evidence and amplify the voices of the women we serve with key influencers. In doing so, we aim to ensure that commitments around women's rights – like the UN Global Goals or the Women, Peace and Security Framework – are effectively implemened for marginalised women.
Raja's Story
Since 2008, Raja has been intermittently displaced by conflict in Iraq. She has been raising her 5 children alone in a camp for internally displaced people in the Kurdistan Region of Iraq since 2015.
"Before, women only did housework, there weren't any jobs or training courses for them – only men worked. Now, here in the camp, women are working and men are staying at home because there is no work for men."
Our Events
We will be highlighting our evidence and the voices of the women we serve by hosting two events at CSW in New York.
We are delighted that both events will feature Bukola Onyishi, Women for Women International – Nigeria's Country Director.
Social Protection and Cash Transfers: Women's Economic Empowerment and Conflict (Wednesday 13 March, 10:30am, New York).
This will be an expert panel event, bringing together key speakers from the World Bank's Gender Innovation Lab, the OECD's GENDERNET, the Women's Refugee Commission and the International Rescue Committee.   
The panel will discuss evidence around how cash transfers – when combined with more comprehensive support – can act as an effective form of social protection for women affected by conflict. We will also look at how such support can critically link to women's economic empowerment in the long-term.
Meaningful Participation: Going 'Beyond Consultations' with Women Affected by Conflict (Wednesday 13 March, 2:30pm, New York).
Working closely with the UK Gender Action for Peace and Security network, we will launch the 'Beyond Consultations Tool' at this event. The panel will feature speakers from UN Women as well as representatives from women's groups working conflict-affected countries.
The Tool was developed in partnership with women and women's organisations in conflict-affected countries and in response to their feedback that current consultation practices tend to be extractive, tokenistic and disempowering. The Tool therefore offers practical guidance to ensure that women's voices are meaningfully heard in decision-making processes.
If you are interested in either of these events you can: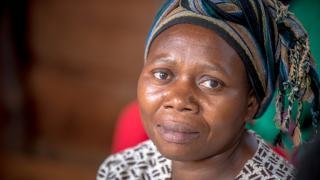 Our Executive Director, Brita Fernandez Schmidt, reflects on the awarding of the 2018 Nobel Peace Prize to Nadia Murad and Denis Mukwege for their work towards eliminating sexual violence in conflict. How can we make this award meaningful for the millions of women who are the target of horrific violence around the world?
Using skills learned in our "Change Agents Programme," our graduates worked together with Women for Women International – Afghanistan and the Afghan Women's Network to create an opportunity to advocate for women's rights and opportunities in rural Afghanistan.