You are here:
7 Powerful Films about the Refugee Experience
World Refugee Week is a time to celebrate the courage, contributions and creativity of refugees around the globe.
The global refugee crisis has reached a record high, with the number of people who have been forcibly displaced worldwide surpassing 100 million for the first time ever. As war and conflict continue in Ukraine, Afghanistan, Ethiopia, Myanmar and other parts of the world, this number is set to rise.
It has never been more crucial to understand the obstacles refugees are facing. From the moment they are forced to leave their countries, to the long and dangerous journeys they endure, to the barriers they face upon arrival, the refugee experience is often marked by desperation and struggle. Yet in the face of unimaginable circumstances, these stories also express overcoming, resilience and hope.
This World Refugee Week, we have put together a list of seven must-see films that provide an insight into the refugee experience and their powerful stories of survival.
For Sama
For Sama tells the story of award-winning journalist and filmmaker Waad al-Kateab's life through five years of the uprising in Aleppo, Syria, as she falls in love with a doctor, Hamza, gets married and gives birth to her daughter Sama - all while conflict rises around her. This BAFTA-winning and Oscar-nominated documentary is a must watch. 
Flee
A powerful and award-winning documentary that tells the story of a young man grappling with his past in order to truly have a future. Recounted mostly through animation to protect his identity, Amin Nawabi looks back over his past as a child refugee from Afghanistan as he grapples with a secret he has kept hidden for 20 years.
Limbo
A poignant observation of the refugee experience set on a fictional remote Scottish island where a group of new arrivals await the results of their asylum claims. It centres on Omar, a young Syrian musician who is burdened by his grandfather's oud, which he has carried all the way from his homeland.
Midnight Traveller
When the Taliban puts a bounty on Hassan Fazili's head, he is forced to flee with his wife and two daughters. Capturing the three-year, 3,500-mile journey entirely on three mobile phones, Fazili shows the dangers facing refugees seeking asylum and the love shared between a family on the run.
Human Flow
Filmmaker Ai Weiwei examines the staggering scale of the refugee crisis and its profoundly personal human impact. Over the course of one year in 23 countries, Weiwei follows a chain of urgent human stories that stretch across the globe, including Afghanistan, France, Greece, Germany and Iraq.
The Windermere Children
Based on the experience of child survivors of the Holocaust, The Windermere Children tells the stories of some of the 300 orphaned Jewish refugees who began new lives in England's Lake District in the summer of 1945. It follows the children and staff of a camp set up near Lake Windermere, where survivors were helped to rehabilitate, rebuild their lives and integrate into British society.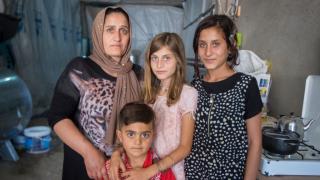 The amount of forcibly displaced people has reached a staggering number—over 100 million according to UNHCR—and the number only continues to increase. This World Refugee Day, learn about the state of refugees today.
In recent years, refugee literature has provided a way of educating the public about the truth behind the refugee experience. Women for Women International believes that knowledge is power, so check out our World Refugee Day Reading List to grow your awareness and understanding of the refugee experience for your own personal reading and to share with others.