You are here:
Monica Vinader
Monica Vinader
Monica Vinader is the creative and entrepreneurial spirit behind the British jewellery brand, Monica Vinader. The brand, which is best known for their iconic friendship bracelets, vibrant gemstones and cutting-edge diamond pieces was founded by Monica in 2008. After graduating from art school in London and working her way up in the jewellery world, Monica made the leap to going it alone by creating bespoke pieces from her converted forge in Norfolk.
Today, Monica draws much of her inspiration from her travels in South America and the Far East, and from her passion for Art, Sculpture and Modernist Architecture. Yet, Norfolk remains at the heart of the design process, where she and her creative team develop all of the collections.
As a brand, Monica Vinader is committed to ethical sourcing of products and preventing the distribution of conflict diamonds. ''We are passionate about the integrity of the design process," says Monica. "I try to respect the organic qualities of the natural stones and materials that I use and when it comes to craftsmanship we always go that extra mile.''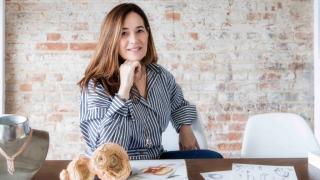 Nura Friendship bracelet
In 2018, Monica Vinader designed the beautiful Nura Friendship bracelet in support of Women for Women International. 50% of profits from the sales of the bracelet are donated directly towards our work supporting women survivors of war.