You are here:
Comfort Zones Anthology
COMFORT ZONES ANTHOLOGY
Women Writers Tackling Unfamiliar Ground
Comfort Zones, which is curated by content agency Sonder & Tell and published by British fashion brand Jigsaw, has challenged writers to go out of their comfort zones and tackle themes and forms that are brave, vulnerable and new.
The concept of Comfort Zones – of questioning the parameters we set ourselves as women and how it feels to move beyond them – was inspired by the bravery of the women who enrol in Women for Women International's programmes. The aim is not to draw parallels between the women supported by the charity and the writers, but to explore the idea of pushing boundaries – both big and small – in recognition of their bravery.
Contributors have donated their time and skills to bring the project to life and 100% of proceeds from this book will help support women survivors of war.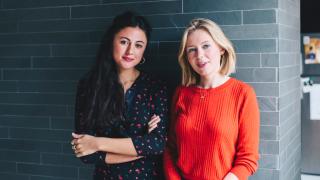 About Sonder & Tell
Sonder & Tell is a content and communications agency that helps story-driven brands find their voice and express themselves. Founded in 2017 by Kate Hamilton and Emily Ames, the company combines smart strategy with innovative storytelling to create communications that cut through the noise and help brands develop a positive culture. 
As long-term supporters of Women for Women International, and members of The Young Leadership Circle, Kate and Emily have created a powerful platform for Women for Women International's message to be heard. We are so grateful for their incredible support.