You are here:
#SheInspiresMe - Fashion HOPE clutch box
Charlotte Olympia
#SheInspiresMe - Fashion
Step inside the vibrant and sophisticated world of Charlotte Olympia, where the meticulous design of luxury shoes and accessories is second only to the experience of owning them. Charlotte Olympia creations are worn by many of today's most glamorous women and have become a byword for international taste and lifestyle.
Charlotte is one of six iconic designers who participated in the #SheInspiresMe - Fashion campaign to mark International Women's Day 2017. Learn more about the campaign.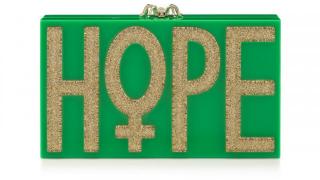 HOPE clutch box
The HOPE clutch box is vibrant, glittering tribute to feminine radiance and strength, HOPE is a keepsake look for the charitable at heart.
All profits are donated to Women for Women International.
About Charlotte Olympia Dellal
Charlotte Olympia Dellal was born in Cape Town, raised between Paris, Rio de Janeiro and London where she resides with her husband and three children. Growing up surrounded by women with strong personalities and a love of fashion set the tone for Dellal's own ethos and ambitions as a designer. After graduating from London's leading footwear design college Cordwainers, Dellal launched her namesake brand in 2008 and was granted NewGen sponsorship by the British Fashion Council, opening her first freestanding store in 2010.
Today, Dellal has firmly established her brand as a catalyst for the lives and lifestyles of contemporary women across the globe – where creative sensibilities merge with the endless possibilities of the digital world. "I design for women who have an innate understanding of who they are," says Dellal, "All unique, all individuals, yet they share a playful spirit, sense of adventure and inherent personal style." Dellal has been internationally recognised for her achievements within the fashion industry and was most recently awarded 'Accessory Designer of the Year' at the British Fashion Awards, 2015.
Charlotte Olympia Dellal is a Women for Women International - UK Ambassador.