You are here:
Double your donation 2021
Your donation doubled. Your impact doubled.
This week only (2nd-9th November) we have an incredible opportunity for your support to go twice as far, at no extra cost to you. For one week only, as part of our Matched Giving campaign every donation will be matched pound for pound by a generous group of donors.*
The COVID-19 pandemic continues to make life even more fragile for women survivors of war – and your support is needed more than ever. 
*Please read the Terms and Conditions. 
A special message from Rukema Ezekiel, Head of the Economic Empowerment Programme at Women for Women International - Rwanda about the impact of your support.
How your support will make a difference
By 2030, fragile and conflict-affected countries will be home to 46% of the world's extreme poor – and women and female-headed households are most likely to be at the bottom of the economic pyramid. 
You can help women reclaim their economic power by: 
Providing access to finances through participation in Village Savings and Loan Association Groups (VSLAs) 
Improving their literacy and numeracy skills 
Providing access to business and vocational training 
Building solidarity among women to work collectively in their communities and share resources
Your gift could help to pay for: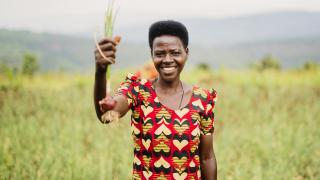 Vegetable seeds
Your gift could pay for enough vegetable seeds to cover 30 acres, enabling a woman to feed her family with enough left over to sell produce at her local market.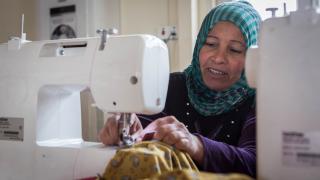 Sewing machine
In Afghanistan, Iraq and the Democratic Republic of the Congo, the path to economic self-sufficiency often begins with a small home tailoring business. As tailors and seamstresses, women are using simple sewing tools like this to provide an income for themselves and their families.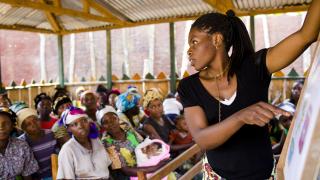 Business skills training
Your gift could pay for hands-on training in the basics of business—like how to market products, knowing what customers want, and providing consistently high-quality goods. Women also participate in literacy training, gain access to Village Savings and Loans Association Groups, and build solidarity among the women we serve so they can form strong business networks. This allows women to become economic providers for their families and contributors to their community's economic development too.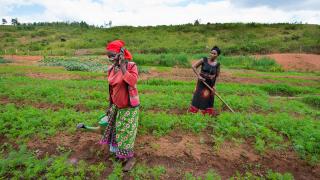 Mobile phone
Your gift could help pay for a mobile phone, giving a woman access to her income through digital banking.
Donate by post
YOU CAN ALSO DOUBLE YOUR GIFT TODAY BY posting a cheque:
Send a cheque in the post to: 
FAO Matched Giving Appeal/Women for Women International
49-51 East Road
London
N1 6AH  
Please ensure your cheque is dated between 2nd-9th November and that it reaches us by midnight on Thursday 18th November. We have allowed additional time for postal gifts to accommodate for delivery delays.