You are here:
Captain Tom 100 Campaign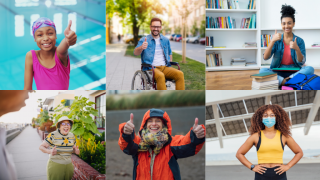 Get Involved
Getting involved is so simple. All you need to do is dream up your Captain Tom 100 – an activity of your choice based around the numbers 100 – and do it anytime and anywhere from Friday 30th April through to Bank Holiday Monday 3rd May 2021.
Your support will be life-changing for the women we serve. Thanks to supporters like you, the women in our programme will be able to find their voice, seize their power and rebuild their lives.
Your 100 could be walking 100 steps or running 100 metres, scoring 100 goals, baking 100 cakes, climbing 100 stairs, hopping 100 laps of the garden, building 100 sandcastles, writing a 100-word poem, flipping 100 pancakes – anything at all, inside or outside. It's your chance to do it your way!
Once you've decided what you're doing, you can fundraise by asking your friends and loved ones to sponsor your challenge or make a donation of your own. Don't forget to also spread the fun and encourage others by sharing your 100 on social media, tagging @womenforwomenuk and using #CaptainTom100.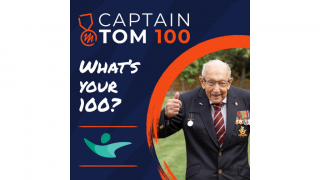 Captain Sir Tom's Legacy
On 6th April 2020, Captain Sir Tom Moore set out round his garden to thank our NHS heroes. One hundred laps later, he'd raised an incredible £38.9 million for the NHS Covid-19 appeal.
His simple message of hope – "Tomorrow will be a good day" – inspired millions around the world and brought comfort and joy to so many during the pandemic. Now it's your turn to build on that legacy. Friday 30th April 2021 would have been his 101st birthday and we are excited to be taking part in the Captain Tom 100 to honour his memory.
Captain Sir Tom was devoted to combating loneliness, championing education and equality, and supporting the NHS. By taking part in the Captain Tom 100, you will be helping us fight for the same causes in the countries we work in. Education, equality and sisterhood are at the heart of what we do at Women for Women International.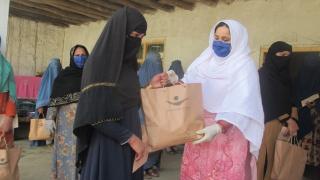 Why we need you
The health systems in many of the countries we work in are failing the most marginalised women living in remote, rural areas. Poverty and gender discrimination make it even harder for women to afford and access health services and hygiene resources.
For instance, Afghanistan has just 4.6 health workers per 10,000 people and health spending in the Democratic Republic of Congo (DRC) is just $32 per capita, compared to over $3,900 per capita in the UK.
The COVID-19 pandemic further highlighted the need to provide the women in our programme with vital health information so they could protect themselves and their families. Last year, we distributed over 5,900 hygiene kits in Afghanistan and Nigeria, and over 99,000 bars of soap and masks within the communities we serve. With these resources, women could put lessons about health and hygiene from our Stronger Women, Stronger Nations programme into practice, to protect themselves and their families from disease.
War and conflict leave women deeply isolated, feeling unsafe to leave their homes and without a safe place to meet other women who have experienced the horrors of war. Our Stronger Women, Stronger Nations programme provides our 'sisters' with a safe space for them to make friends, regain their confidence and build valuable support networks.
But in a time when women are forced to stay at home, risking domestic abuse, facing the stress of social and economic strains, and being cut off from their support networks, it is more important than ever to stand by them, letting them know they are not alone. 
As Captain Sir Tom used to say, "Tomorrow will be a good day". With your support we can make that true for women survivors of war.
Disclaimer
If you have chosen a physical challenge for your Captain Tom 100 and feel discomfort throughout the challenge, immediately stop and consult a physician.
You should obtain specific approval from your physician or health care specialist before performing any physical challenges if you have any chronic or recurring physical conditions, and/or if you are pregnant, postnatal, nursing, or elderly.
Please do not participate in any physical challenges if you are under the influence of alcohol or non-prescription drugs. Please participate at your own risk.
Women for Women International or anyone involved in the creation of Captain Tom 100 are not responsible for any injury, condition or damages that you may sustain as a result of taking part in the challenge.
Read more
Grace and Hadiza are two brave women who are challenging norms and making their voices heard as they advocate for change in their communities in northern Nigeria. Using radio, they are helping women to speak up against gender-based violence and empowering them to get the medical and legal support . Graduates from the Stronger Women, Stronger Nations Programme, these two women are an example of what can be achieved when women believe in the #PowerToChange accepted norms.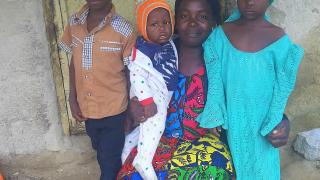 As she prepares to graduate from our programme in Nigeria, Saratu's future looks bright - despite the challenges of a global pandemic.