You are here:
World Teacher's Day
On World Teacher's Day, we asked three of our trainers to share their experiences of teaching during a global pandemic.
Women and girls affected by conflict, displacement and poverty are even more likely to miss out on educational opportunities during the current crisis – deepening pre-existing inequalities and threatening to cause long term setbacks for women, their families, and whole communities and economies.
On World Teacher's Day, we're celebrating our remarkable trainers, who have been working throughout the pandemic to continue delivering life-changing knowledge, skills and solidarity to women participants in our 12-month programme.
In Iraq, where lockdowns and stay-at-home orders remain in effect, trainers have embraced online teaching to allow women to continue their classes. In addition to delivering our programme curriculum remotely, they are also supporting women's social, emotional and mental wellbeing through a variety of digital platforms.
We heard from three trainers in our Iraq programme about their experiences of teaching during COVID-19, how they've adapted to the virtual classroom, and what keeps them motivated.
Sara
Social Empowerment Trainer, Iraq
"Supporting women is my passion. Helping them to improve their social situation is very rewarding, and it's also close to my field of study, which is clinical psychology. 
Our pre-existing relationship with the women was very helpful when transitioning to online classes, because there was trust built between trainers and the participants. The participant handbooks were also a great help, because there are pictures in there which we can reference while delivering classes.
The sessions are delivered through Viber voice messages. The slow internet can be challenging and sometimes participants have guests or are busy with housework.
The positive part is staying in touch with the women, it is great to have online classes so the women don't feel so isolated. They love the online classes; it creates an environment of learning from each other and staying in touch with each other."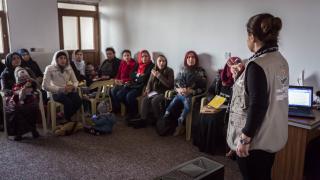 Noor
Social Empowerment Trainer, Iraq
"I enjoy engaging with the participants, to learn about their lives and help them find different methods to solve their problems. I enjoy helping our participants learn about their rights and find their points of strength to make their lives better.
Starting online teaching during the crisis was a big achievement, honestly at the beginning we didn't expect such success, but fortunately we had great engagement from the participants and they were so excited to continue their courses online. The pictures in the participant handbook and voice messages helped us to successfully deliver lessons.
The biggest challenge was the participants' internet connection. Some of them were unable to attend the online classes on time and they had to replay the voice messages at night when they had an internet connection. Another challenge was catching up new participants when they had missed several teaching weeks.
The participants were so happy as they were able to attend the classes while getting on with their normal life and home responsibilities as well."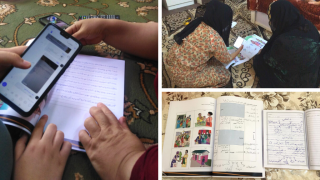 Skalla
Economic Empowerment Trainer, Iraq
"I love that my job helps women to learn how to start their own businesses, earn an income and become economically independent.
We set up Viber groups for economic empowerment training. In each group we have 20 or 21 participants. The women are actively participating and learning from each other. If a woman doesn't have access to internet during the online classes, she can listen to the voicemail messages and send her input during the week when she has access to internet.
The biggest challenge was when the Viber accounts were temporarily blocked due to technical issues and sometimes women were unable to get an internet connection.
Maintaining close communication with our participants has been our point of strength. We were able to support them psychologically during the quarantine and continue to deliver the training sessions. Most of the participants loved the online classes because they were able to learn while attending to home responsibilities. The economic and social empowerment lessons contain important information and skills which will help women in their business and daily lives."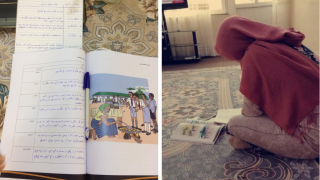 This month, students across the UK are returning to the classroom after the long COVID-19 shutdown – and in the conflict-affected countries where we work, women are also being reunited at our training centres after months apart. In Iraq participants enrol in online classes as COVID-19 lockdowns continue.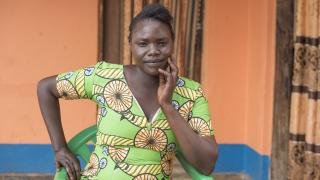 The Coronavirus pandemic has highlighted an increased need for our work with women survivors of war. Donate today to help the women we serve survive COVID-19 and your gift will be matched at no extra cost to you.