You are here:
What does peace mean to you?
With over 40 active conflicts in the world today, and record-breaking numbers of people displaced from their homes by violence, sometimes 'world peace' can seem like little more than a lofty ideal. But for anyone who has experienced the physical dangers and psychological stress of conflict in their daily lives, peace has much more tangible and personal meanings.
For Furera Ismail, a young mother from Riyom, in Nigeria's volatile Plateau State, peace is simple, everyday things: being able to visit her neighbours' houses, to graze her animals freely, to sell her homemade yoghurt at the local market and earn enough to send her seven children to school, rather than out to work.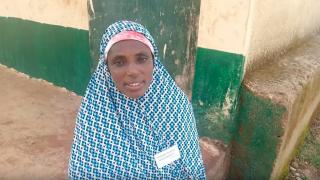 Since stability returned to her village in the last six months, thanks to peacebuilding efforts led by local women and supported by Women for Women International, Furera has noticed another small but profound change: "Now I can sleep soundly, with my eyes closed," she says.
Just a few years ago, Furera's husband, a cattle herder, was killed during a violent dispute between herdsmen and neighbouring farmers. Shortly afterwards, her house was burned down during another attack.
These incidents are part of an escalating, tit-for-tat cycle of violence which is currently engulfing central Nigeria. As well as competition for land, religious and ethnic divisions also fuel the conflict – herder families like Furera's are part of the Fulani ethnic group, who are predominantly Muslim, while farming families are largely Christian.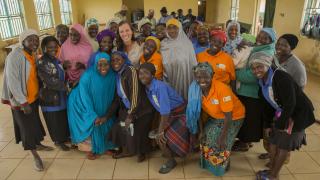 A few weeks ago, I travelled to Plateau State myself, to visit the work of Women for Women International – the organisation where I have worked for the past decade. During my time there, I met dozens of women with stories like Furera's, from both sides of the herder-farmer conflict.
Women who had witnessed the torture and execution of family members, whose homes, livestock and livelihoods had been wiped out – not by an invading force, but by neighbouring groups who have lived alongside each other for centuries.
I spoke to Kangyang, a Christian farmer whose story is a mirror-image of Furera's – her husband and 11-year old son had been shot to death by Fulani herdsmen.
This bitter feud has not only cost thousands of lives – it has created a corrosive climate of distrust and fear between neighbours, which destroys the social fabric of communities, as well as individuals' sense of security in their own homes.
Yet in the midst of this, I met women who are rejecting the circle of retaliation, reprisals and hatred. They have come together, bridging religious and ethnic divides, fuelled by a determination to improve the lives of their families and to put an end to the terrible cycle of suffering.
Women from both groups met during Women for Women International's year-long training programme, which supports marginalised women with knowledge and skills to earn an income, improve their family's health and wellbeing, and advocate for their rights.
Crucially, women from both Fulani Muslim and Christian farmer communities are enrolled together, in mixed classes of 25 – creating a space for conversation and collaboration that had never existed before.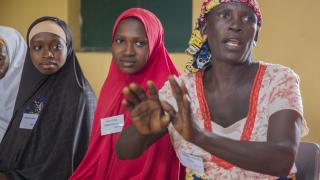 As well as improving their own and their families' lives, women have taken the lead in reconciling their fractured communities.
Recently, they organised a peace dialogue between herdsmen and farmers, with the support of the local authorities, bringing together representatives for both sides.
The result was a peace agreement, which has been successful - in the last six months, the fighting has stopped. Children are going back to school, crops and cattle are safe, families' economic wellbeing has improved, and people who had fled the region are returning.
There are no quick and easy fixes to the devastation caused by conflict. But what I saw during my time in Nigeria convinced me that long-term strategies – which allow peace to be shaped and defined by communities themselves – are the only effective way to end complex, entrenched cycles of violence. If they are implemented in the right way, they can in fact generate lasting change in a remarkably short period.
There is a role for individuals like you and me in this process as well – to help raise the voices of women like Furera, who are so often invisible and silenced, or seen as merely the helpless victims of conflict, rather than a powerful force for progress and peace.
Changing this narrative is critical to securing more investment and support for marginalised women in areas like Riyom, so they can build better futures for themselves and their families.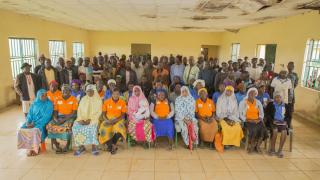 This World Peace Day, I'll be thinking about Furera's definitions of peace: friendship and trust among neighbours, an education for her children, food on the table, dreams for the future, and a peaceful night's sleep.
For women whose lives have been most affected by violent conflict, peace is not just an aspirational ideal, but a series of urgent, practical goals that they are working hard to make a reality.
We need to get behind them every step of the way.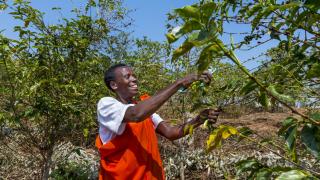 For World Entrepreneurs' Day, we're celebrating some recent success stories from businesswomen in Rwanda, DRC and Nigeria.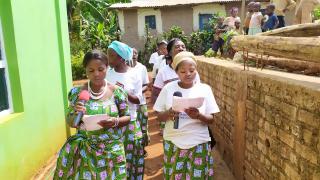 In the Democratic Republic of Congo, graduates of our programme are organising 'Community Forums' to educate and engage local leaders on women's rights issues, and find solutions to the major barriers women face.