You are here:
What does it take to walk the localisation agenda and not just talk it?
What does it take to walk the localisation agenda and not just talk it?
Hear directly from our partners as they reflect on Women, Peace and Security (WPS) Week
At the end of October, we attended WPS Week with five partners of the Resourcing Change Consortium. The Resourcing Change project has provided 27 women's rights organisations (WROs) in Nigeria, South Sudan and Yemen with an average of £35,000 in flexible core funding alongside capacity strengthening, movement building and learning opportunities.
Every year, organisations and advocates focusing on women's rights in conflict gather in New York for a week of meetings, talks and events as part of Women, Peace and Security (WPS) Week. This week is timed to coincide with the anniversary of UN Security Council 1325, and the UN Security Council's open debate on WPS, which is an opportunity for member states to hear from civil society and set out their own WPS priorities and actions.
We know that this last year has been marked by a rise in global conflicts, increased rollbacks on the rights of women and gender minorities, and emerging strategic threats to the realisation of the WPS agenda - more than 600 million women and girls lived in conflict-affected countries in 2022, a 50 per cent increase since 2017.
Rather than another decade of discussion, now is the time to act to fully fund and institutionalise the commitments that governments and other actors have made to implement the WPS agenda. This is exactly what we advocated for throughout WPS Week. Without core, long-term and flexible funding, organisations that are genuinely making an impact and building peace in their communities will be unable to continue their work.
Getting to New York was no easy feat. Many barriers exist that make it difficult for women in conflict-affected countries to access regional and global decision-making spaces. These barriers include visa delays or outright visa rejections, a lack of funding for travel and complicated journeys with multiple flight connections and long car journeys. This meant that arriving at WPS Week was an achievement in itself.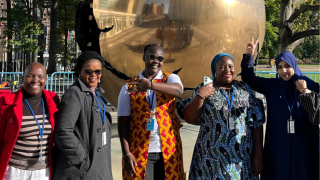 Once we had overcome these hurdles, we had a productive and meaningful week. We coordinated high-level discussions with influencers and decision makers, and co-designed those dialogues in a way that truly centered the leadership and expertise of the five partners who were participating. Hear directly from them about how they found the week. 
"Coming here and going to the activities was super exciting. I was able to learn more from other people and also different ways of doing things; an impactful week that I will take back to my organisation. It's too much knowledge to keep to myself and knowledge is power" Elizabeth James George, Child is Gold Foundation, Nigeria.
Our partners felt like their voices were heard and centred in these discussions which, as Tazita says, is walking the localisation agenda – not just talking it:
"The reality is that the Resourcing Change Consortium are doing something different. Especially in our context, you see we have people [the Resourcing Change consortium] that are working with us…always supporting us and guiding us, they want your voices to be heard. In most cases [with other organisations] we are told there is no budget. For example [for WPS week], [INGO] project leads could have been the ones come to represent our voices – just imagine!"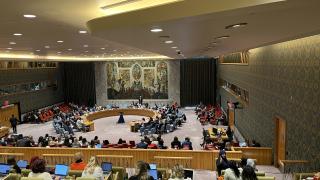 During WPS week the consortium attended a variety of events that focused on understanding masculinities, localisation and youth movements - just to name a few. Each event engaged with the importance of collective action and building solidarity with organisations driving forward similar progress for women's rights in conflict
"I came out thinking, as a women's rights organisation, what do I need to do and how can I support other organisations? I have been thinking through the other contexts a lot, like in Colombia, Nigeria, Yemen. This experience sharing has been very important." Anna Tazita Samuel, Women for Change, South Sudan.
Towards the end of the week, we facilitated a high-level dialogue for Member States and UN Agencies to hear directly from women working toward peace and gender equality in fragile and conflict-affected communities and to engage with them on their expectations and priorities for advancing the pillars of the WPS agenda. The event was co-designed with our partners who shared their expertise on what meaningful engagement and partnership looks like and what the role of the international community should be in strengthening women's movements. The event launched our new policy and learning brief: "Localising Women, Peace, and Security: Partnering and resourcing women's organisations in fragile settings differently to enable locally-led and integrated interventions."
"The events are so important and needed, especially for our context in Yemen. It was an opportunity to raise our voices and make sure that the need for peace is not forgotten in Yemen. It is so important for us to continue this project and think about how we can continue the conversations with the people that are interested in our work." Afrah al Khali, Mothers of Abductees, Yemen
"We have been able to put our cases on the table and share our messages, we have shown how far we've come… It has been important to understand how our experiences are shared, even when our contexts are different…We are so strong even though our environments are challenging and nothing comes easily to us. This has been a good chance for our organisation to be here – for us to say: yes, we are still in the field, we are still working and fighting, and we will continue until women in our society have their rights." Anonymous, Yemen.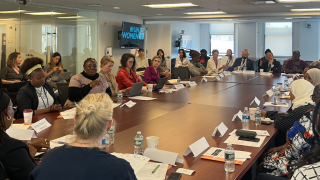 Our partners messages are clear, and the Resourcing Change Consortium is working to the same feminist principles of flexibility, intersectionality, accessibility, transparency, accountability and an inclusive use of power. Part of this means creating space for WROs to lead on initiatives or processes that they may typically be excluded from. These principles set the foundation for our partnership approach; and we will continue advocating and showing up with our partners in global decision-making spaces until all women in fragile and conflict-affected states have their rights upheld.
With devastating conflicts and crises multiplying and deepening, it's painfully clear that the full implementation of the WPS Agenda is more critical than ever. It is crucial that governments, UN agencies and other international actions act to fulfil the commitments they have made to realise this vision, including by enabling local and national civil society actors - especially WROs and women activists, peacebuilders and human rights defenders - to meaningfully lead responses to crises and peace processes.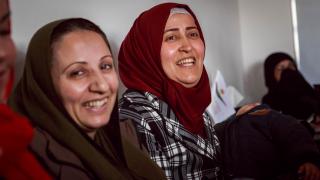 We are stronger together. That is why we work with networks and strategic partners to greater amplify the voices of the women we work with. Explore the key networks and coalitions we participate in and some of our partnership projects.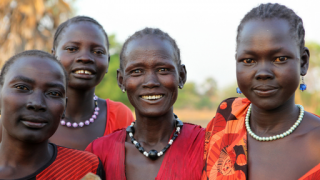 Core, flexible and accessible funding – in recognition of women's rights organisations' greater knowledge and experience of their contexts – enables them to prioritise and respond to what's needed.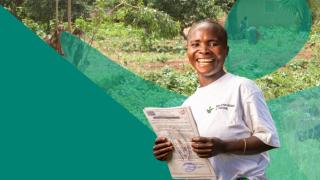 At Women for Women International, we are working towards a world where power systems and structures are transformed to better uphold and protect the rights of women affected by conflict and ensure their meaningful participation in the decisions, policies, and laws that affect them.