You are here:
Solar Sisters
Women for Women International – Nigeria Graduates win Clean Energy Entrepreneurship Awards
Mercy Paul and Salamatu Yusuf, two Women for Women International programme graduates in Nigeria, have been recognised for their outstanding achievements marketing and selling clean energy products in their communities in Plateau State.
The women were part of a recent partnership between Women for Women International and social enterprise Solar Sister, whose pioneering direct sales network aims to brings affordable clean energy to communities across Nigeria, Tanzania and Uganda - whilst providing women with a steady income. Last year, Solar Sister provided specialised training in sustainable energy and entrepreneurship for 101 women enrolled in our 12-month programme in Nigeria. The women received start-up kits, marketing support and ongoing mentoring to establish their own businesses selling solar lamps and improved cook stoves.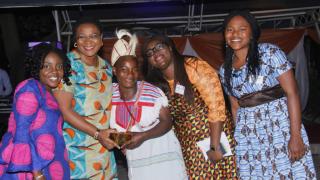 Leading the way in solar lamp sales 
At a ceremony in Abuja earlier this month, Mercy was named as Solar Sister's best-performing entrepreneur in the Northern Zone region, whilst Salamatu took third place. It was a close competition, with Mercy generating 408,350 Nigerian Naira (£795) in total sales, compared to Salamatu's 404,800 Naira (£788). 
We're incredibly proud that our Women for Women International graduates took two of the top spots, after just recently getting started in their businesses. Overall winner Mercy was overjoyed to win a motorbike and mobile phone, which will help her grow her business further, and access more remote rural communities.
The annual awards ceremony brought together Solar Sister's most successful entrepreneurs from other Nigerian states and the Federal Capital Territory. Unlike Mercy and Salamatu, the majority came from cities and major towns - none of them operated in rural villages like Ampang-West and Pushit, where Mercy and Salamatu sell their solar lamps. This makes our graduates' achievements all the more remarkable.
Continue reading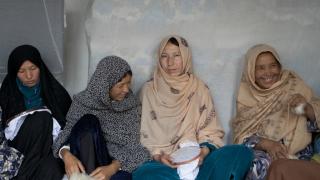 When it comes to protecting women's rights in conflict-affected countries, it's time to turn resolutions into reality. The UK's new Plan is a step in the right direction.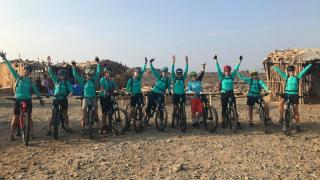 In November 2017, 12 women embarked on a two-week Mountain Biking Expedition across the Danakil Depression of Ethiopia, to raise funds for our work with women in countries affected by conflict.