You are here:
Sexual Violence – The Oldest Weapon. A Matched Giving Appeal
From the earliest times, sexual violence in conflict (SVC) has been used as a weapon to systematically destroy the social fabric of society and strike fear into civilian populations.
In modern warfare, the weapons may have changed, but this horrific practice remains widespread. Women for Women International are experts in this area – over the past 25 years we have consistently been advocates for women who are too often forgotten and made invisible.
The voices of the women we work with are reflected in all of our communications. That is why we never portray women as passive, helpless victims – but instead focus on their resilience and potential.
We were founded to provide support to women survivors of genocidal rape during the Bosnian war, at a time when these atrocities were just beginning to be recognised as a crime, documented and publicised.
Safeta, from Bosnia and Herzegovina was raped and tortured by soldiers whom she recognised as neighbours from her village.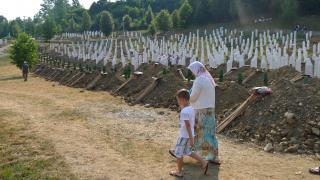 Sexual violence in conflict demonstrates the long-term, wide-ranging impact of war on individuals, families and communities (physical, social, economic and psychological).
This requires so much more than short-term emergency aid that focusses on a single problem – women need the tools to empower themselves: knowledge of rights, skills to generate income, psycho-social support, and friendships.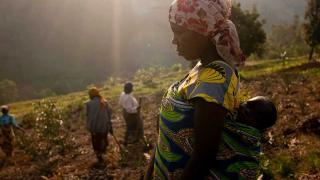 Women for Women International is committed to helping those women who have survived sexual violence in war and is currently working in Iraq (where recent events in Syria have displaced even more refugees), Democratic Republic of Congo, Afghanistan, Nigeria, Rwanda, South Sudan – and most recently Bangladesh, where thousands of Rohingya refugees live in camps, having fled violence in neighbouring Myanmar.
This week we have an amazing opportunity. A fantastic group of supporters have agreed to match, pound for pound, every donation made during the week of 25th November – 3rd December 2019.
This will mean that all donations we receive during this period will be doubled. We know that women are not defined by their ordeals – rape is not their whole story. We see this every day in our work. But we need your help. 
Women for Women International urgently needs more funds so that more women survivors can enrol in our programme and gain the tools and support they need to overcome their trauma and start the next chapter in their lives.
*For privacy reasons, representative photos have been used.
Continue reading
Child marriage rates are estimated to be four times higher among Syrian refugees today than among Syrians before the crisis, while Iraq's has jumped from 15% to 24% in the past two decades of instability.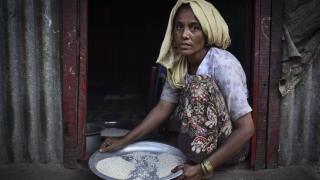 Since August 2017, Myanmar has forced over 700,000 Rohingya refugees, mostly women and children, into makeshift communities at the border of neighbouring Bangladesh. Our Conflict Response Fund, launched in May 2019, is helping Rohingya women to regain stability for themselves and their families.