You are here:
Comfort Zones Anthology
uniting women across space and time with written words
"To my sister, you are stronger than you could imagine, you are braver than you know and your future will be bright…"
Don't you think there's something in the shared language of letters? The idea that you can craft words intended for a reader thousands of miles away and then – in the act of writing and reading – two people become linked, even if momentarily. It was this idea that caught our attention on International Women's Day last year.
Women for Women International's #MessagetoMySister campaign asked supporters to write letters to women participating in the charity's year-long programmes. There were calls for women to 'keep going' to 'trust in yourself' in between reassurances that 'you are not alone'. It was this campaign that inspired us to create Comfort Zones.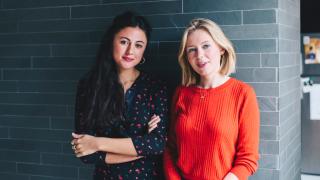 With the support of 28 brilliant women writers and the fashion brand Jigsaw, we have – through our content agency Sonder & Tell –  put together a book of letters, stories and essays, for which 100% of the proceeds will go to Women for Women International. It's called Comfort Zones as we've encouraged the women contributing to dig deep and write something brave and new. The aim is not to draw parallels between the women supported by the charity and our writers, but to explore the idea of pushing boundaries – both big and small – in recognition of their bravery. 
Of course, we are not the only people to recognise the power of the written word in uniting women across space and time. As much as there is something in the shared language of a letter, there is something special about an anthology – a grouping of diverse voices brought together for a common cause. On the eve of the publication of Comfort Zones, we've pulled together some of our favourite story collections – to read, and then to pass on.
Comfort Zones
edited by Sonder & Tell
Okay, so we might be a tiny bit biased because this one's ours. Beyond the fact that all proceeds go towards supporting Women for Women International, there are a few reasons why we think you should know about Comfort Zones.
The book has challenged writers – including Pandora Sykes, Funmi Fetto and Farrah Storr – to explore subjects outside of their usual beat. The eclectic group of letters essays and stories span narcissism and being liked; being alone and being enough. There's a meditation on motherhood from a food writer, a letter of friendship from an international news journalist and a short story from a magazine editor.
The Things I Would Tell You: British Muslim Women Write
Edited by Sabrina Mahfouz
When the playwright Sabrina Mahfouz put this book together, she wanted all writers to "identify as having both a British and Muslim background, regardless of their birthplace, citizenship status or religiosity." The result is a diverse collection of work which proves there's no single story, and many voices to be heard.
It includes short stories, poetry, essays and playscripts from both well-known writers like Kamila Shamsie and Ahdaf Soueif as well as emerging talent, while themes span from belonging, honour and love in the time of Tinder.
Feminists Don't Wear Pink & Other Lies
curated by Scarlett Curtis
A Sunday Times bestseller for a brilliant cause, this collection of essays was curated by pink-haired journalist and activist Scarlett Curtis.
Featuring writing by Dolly Alderton, Emma Watson, Adwoa Aboah and Helen Fielding (aka Bridget Jones), it unpacks the myths that women have been told about feminism and attempts to break down the boundaries between millennial feminist hashtags and academic works. The best part? 10% of each book sold goes to the UN's international girls' charity, Girl Up.
The Story: Love, Loss and The Lives of Women
edited by Victoria Hislop
This weighty tome edited by Victoria Hislop is packed full of short stories by women including Virginia Woolf, Chimamanda Ngozi Adichie and Angela Carter.
What we love about short stories is that they feel complete in themselves and they're also really suited to the way many of us now read (they can last as long as a bus journey). Hislop's selection spans love, loss and life, in all its varied shades of light and dark.
New Daughters of Africa
edited by Margaret Busby
Over 25 years ago, Margaret Busby released New Daughters of Africa, which aimed to give voice to stories of black women writers. It was hailed as an extraordinary body of achievement, and in 2019 this new edition has been released to continues its mission.
Chimamanda Ngozi Adichie is in there, as is Leila Aboulela, but the point of this book is to showcase many of the overlooked artists of the past. Each of the pieces feels like an act of sisterhood, addressing the obstacles women of colour face as they negotiate issues of race and gender in their work.
Fifty Shades of Feminism
edited by Lisa Appignanesi, Eva Hoffman and Susie Orbach
"As a Woman, I have no country; as a Woman, my country is the whole world". So wrote Virginia Woolf, and so begins this collection of writing by women. The idea for the book began over a dinner, during which Lisa Appignanesi, Eva Hoffman and Susie Orbach (the psychotherapist) were setting the worlds to right, discussing porn, domestic violent and Fifty Shades of Grey.
They decided Fifty Shades of Feminism was something they wanted to see and went on to collect stories from a barrister, gang workers, comedians, politicians, academics, theatre directors and more. The idea is to open up readers to different ways of seeing.