You are here:
Building our global community through our first digital festival
The ingredients that created a day filled with activism, sisterhood and hope
If there are three learnings I could share from my four years at Women for Women International it would be this:
When women are united by a shared goal incredible things can happen – here is just one example
Punching above your weight is a good thing and leads to transformative growth
Sometimes, it's the most challenging situations that create the most inspiring results and changes
All these learnings came together in the planning and execution of #SheInspiresMe LIVE 2.0 on 20th June 2020. When we started the year, an event like this was not on the horizon – along with so many of the fundamental changes we've faced since. This was BC – before Coronavirus – when we were still in a physical office and in-person events were the norm rather than exception. 
The initial conversations around creating our very first online festival were tentative. As a Comms team, we looked back at the flagship 2018 #SheInspiresMe LIVE event with a mixture of immense pride and a still visceral memory of the grit and hard work it took to make it a success.
"Forged in the flames of #SheInspiresMe LIVE," this was how our Head of Communications, Lucy Scanlon, put it when she spoke about the teamwork and camaraderie – the sisterhood – involved in creating a 200+ guest feminist festival from scratch. It's still a personal and professional highlight for many of us.
During lockdown, we knew we wanted to offer our global community a platform – a safe space. To use this unprecedented time as an opportunity to make the world kinder, more equal and more resilient.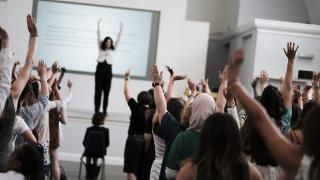 And so #SheInspiresMe LIVE 2.0 was born.
From the onset, we wanted to make sure that our global team and the women survivors of war we proudly serve were front and centre. It is their courage and determination that inspires us all every day and we wanted to share this spirit with our global community of supporters.
As a result, the sessions at #SheInspiresMe LIVE were curated to reflect the four outcomes of our year-long training programme. The holistic curriculum aims to help women earn and save money, improve their health and well-being, stand up for their rights and build connections and friendships with other women.
The morning of #SheInspiresMe LIVE was filled with nervous excitement. We were thrilled that over 430 members of our community bought tickets, but admittedly there were so many moving parts to consider – internet connections, keeping the conversations going in the virtual networking sessions, managing speakers joining from different time zones and, of course, staying on schedule!
Luckily, we were working with the fantastic team at Fundraising Everywhere who helped us manage all the details with expert aplomb. They were like ducks above water – making is look easy while busily paddling for more than seven hours of the livestream.
The day offered an incredible line-up of over 25 change-makers including an inspiring conversation between founder of Women for Women International Zainab Salbi and Annie Lennox. They shared what first inspired them to stand up and take action, and their top tips for getting started in activism. ⁠We heard from cutting-edge journalists and authors Yomi Adegoke, Christina Lamb, Tahmina Begum and Soraya Chemal who helped answer the question: how do we set outside of our comfort zones and take action?
Watch the highlights
Pioneering women like the editor of Stylist, Lisa Smosarski, and our Ambassador Basma Khalifa shed light on how to turn your passion into a career.
The author of Playing it Big, Tara Mohr, shared her insight on how to take up more space and improve your leadership. Our amazing Ambassador Jasmine Hemsley reminded us about the importance of mental health by providing a relaxing sound bath meditation.
The day was so full of powerful voices, tangible next steps, and guests connecting in the chat box that in the end it felt like somewhat of a dream. Reading the feedback the next day was an absolute highlight – and a reminder that we pulled it off!
This was one of my favourite reflections shared by a guest:
The energy, passion, commitment and respect I have heard from all the women I have listened to so far today is so infectious. I have been struggling to figure out for me what I need/want to do that could actually make a difference and now I have so many ideas!
If we were able to create an opportunity for our supporters – our global sisterhood – to have an 'aha moment' where left knowing an action they take (no matter how small) can make a difference, then the day was a success.
100% of the proceeds from the event went towards our work supporting women survivors of war living in some of the world's most dangerous places. 
As a result of a competition we ran offering a one-hour mentoring session with our fabulous co-leaders and co-hosts, Brita Fernandez Schmidt and Shivonne Graham, we were able to set up more than a dozen regular donations including four sponsorships. These committed gifts will help ensure that more women in our programme with have access to the vital resources they need to slowly rebuild their lives.
Only two questions remain: when will our next virtual event take place (we're already cooking up ideas for more digital events this autumn) and will you be there?
Sign up for our newsletter below and be the first to know and save your virtual seat. We can't wait to see you there!