You are here:
Mint Velvet
Mint Velvet
Women for Women International is thrilled to enter the third year of our amazing partnership with Mint Velvet.
As a company founded by three women, female empowerment is central to Mint Velvet's ethos. Mint Velvet have championed the message of sisterhood through their ongoing support of women survivors of war demonstrated through campaigns such as We Are Women and #ShareYourHeart.
Mint Velvet's founders are also personally committed to helping the women we serve rebuild their lives. Liz Houghton and Lisa Agar-Rea have sponsored women from Nigeria and the Democratic Republic of Congo through our year-long training programme.
INTERNATIONAL WOMEN'S DAY 2020
For the third year, Mint Velvet have designed a piece to celebrate International Women's Day and raise funds for women survivors of war!
Mint Velvet have created two sweatshirts; a womenswear sweatshirt and a mini-me version for children.
Demonstrating their continued commitment to the women we serve, Mint Velvet are donating 100% of the profits from the sweatshirts to Women for Women International.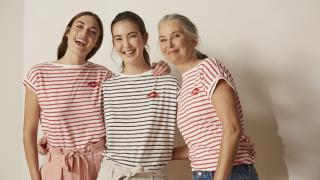 International Women's Day 2018
Mint Velvet designed a Breton t-shirt, with 'We Are Women' embroidered on the sleeve to support our partnership and celebrate International Women's Day. Mint Velvet donated a life-changing £47,000 to our work in 2018.