You are here:
Mary Katrantzou
Mary Katrantzou
Born in Athens, Mary Katrantzou studied Architecture at Rhode Island School of Design (USA) and graduated with a BA in Textile Design and an MA in Fashion from Central Saint Martins (London).
Her graduation show in 2008, which featured trompe l'oeil prints of oversized jewellery on jersey-bonded dresses, took the industry by storm, immediately securing a number of prestigious stockists, notably Browns, Joyce and Colette. After her graduation show, Mary Katrantzou established her namesake brand. She now boasts over 100 high-end stockists ranging from Selfridges to Joyce, Matchesfashion.com, Harrods and Saks.
Mary Katrantzou was dubbed "The Queen of Print" by press, a moniker that recognised the enormous influence of her work in the medium. Katrantzou's work changed the face of twenty first century fashion, inspiring high fashion and high street designers alike.
In her designs, Katrantzou plays with clashing aesthetics, mixes technology and craftmanship and explores opulent innovative embellishments. Mary Katrantzou's world is feminine, innovative, fresh and elegant.
Mary Katrantzou has received various awards throughout her career. In 2010 she was awarded the Swiss Textiles Award in recognition of her pioneering textile treatments; in November 2011, she received the British Fashion Award for Emerging Talent, in February 2012 was awarded Young Designer of the Year at the Elle Style Awards. In 2015, Katrantzou received the Vogue Designer Fashion Fund, was awarded Glamour designer of the year, Harper's Bazaar Breakthrough Designer as well as the British Fashion Award for New Establishment Designer.
Prestigious collaborations have included capsule ranges with Swarovski, Longchamp, Moncler, Topshop, Cowshed and Adidas Originals. Mary has also collaborated with artist Pablo Bronstein at the ICA, designed costumes for the NYC Ballet and the Paris Opera and her work has been exhibited at the New York Metropolitan Museum of Art and at Lord Rothschild's "Creatures and Creations" exhibition at Waddesdon Manor in the UK. The Dallas Contemporary museum presents "Mary, Queen of Prints," the first solo exhibition of Mary Katrantzou from January to March 2018 and brought more than 180 looks into one vibrant tableau.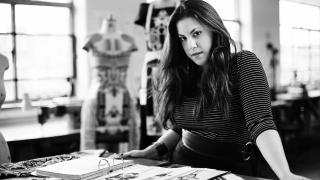 #SheInspiresMe Fashion
Mary is one of six iconic designers who participated in the #SheInspiresMe - Fashion campaign to mark International Women's Day 2017. All profits were donated to Women for Women International.
The print of Mary's Gaia Modal Cashmere scarf was straight from the Spring Summer 2017 runway and celebrates the empowerment of women throughout history.