You are here:
Juliet Aubrey
Juliet Aubrey
Actress Juliet Aubrey supports Women for Women International, not only because she feels strongly about the organisation's work with women in war-torn countries, but also to honour the memory of her sister, a committed campaigner for female victims of violence in conflict. As an avid sports woman, Juliet has completed London's boating marathon, The Great River Race, raising funds for Women for Women International and ran 10k for women survivors of war.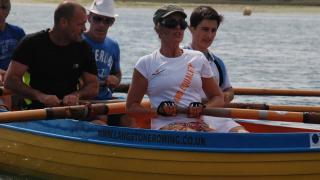 Taking on a challenge
In 2013, Juliet took part in the Great River Race to raise funds with our work for women survivors of war. With seven team-mates, she rowed 21 miles along the River Thames.