You are here:
Virtual Barre Class with Nathalie Errandonea-Mewes
Join us for a virtual barre class - an infusion of pilates, ballet moves and yoga stretches
Looking for an energy boost to get you feeling refreshed, revitalised and ready for the new year?
Join us on the 26th January at 6pm (GMT) for an exclusive Virtual Barre Class with Nathalie Errandonea-Mewes, founder of NRG Barrebody.
Ballet Barre is an artful infusion of Pilates, classical ballet moves, and yoga stretches designed to improve strength and stability, attain a more toned physique and create better alignment.
This is a beginner class, so no barre experience is needed! All you will need is a chair and a yoga mat.
Tickets are just £2, with 100% of proceeds going towards supporting women survivors of war. If you are one of our Power Up Club members, you can use the discount code we sent to your email address to secure your free ticket.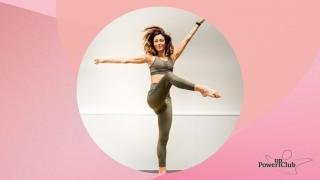 About NATHALIE ERRANDONEA-MEWES
Nathalie Errandonea-Mewes is a former classically-trained dancer and founder of NRG barrebody. Nathalie's class will help you improve strength, stability, and better alignment.
Get ready for high-intensity yet low-impact class that will leave your every muscle feeling energised!
JOIN THE POWER UP CLUB IN JANUARY AND RECEIVE FREE SELF-CARE TREATS
Join the Power Up Club by setting up a regular gift of £7 or more in January and receive not only free access to our events like the virtual barre class but also a free wellness package! Our wonderful partners at Slip have kindly donated one of their pure silk pillowcases for each new member, and we will also include a special wellness loose leaf tea. So sign-up today!
Please read the terms and conditions.