You are here:
Sarab's Story
My name is Sarab
For many years, Sarab's life was restricted by ISIS' control of Mosul, Iraq. Today, she is slowly recovering from this trauma and, for the first time in her life, is starting to believe in herself and her abilities.
Before ISIS (Islamic State of Iraq and Syria) came, my family was well off, and we did not need to rely on anyone for support. But when they took control of Mosul, ISIS also deprived my family of the most basic necessities because my husband would not join them. They said to him, 'Come join us, and we will help you and your family and provide you with everything.' But I always prevented him from joining them. I supported him and reminded him of his family, I reminded him that we had nobody else to rely on. 
I faced that period with great difficulty. Most days, we had no food to eat, and we survived on handouts from neighbours.
My psyche was destroyed, especially when my daughter's face was burnt and disfigured, and I did not have the money to treat her. At that time, my neighbours helped me to take her to the doctor and take care of her treatment.
During ISIS' control, we lost our home, our furniture and our livestock but I did not show the weakness I felt to my family and children. 
At the time of liberation, my family and I were exposed to mortars and bombardment by planes. We lost our neighbours in the bombing and saw dismembered bodies of civilian victims and ISIS members, but God protected us. After liberation, when the army arrived, we greeted them with cheers and overwhelming joy.  
They helped us with food, clothes, and kerosene for heating and we returned to our house. Despite the damage it had suffered, returning was the greatest joy for us.
I had lost one of my daughters during ISIS' control, and though the pain of losing her is still in my heart, we had to start our lives again.
However, we then faced a new challenge. Other people in the region said, 'As long as you stayed in Mosul, then you belonged to ISIS, and you are the reason for our harm.' This is the biggest pain because the people did not understand that we did not have the money to leave Mosul. They accused us of belonging to ISIS, even though we fought them. Today, we still face harassment from people in the region and our neighbours who do not believe the truth of what happened. This is one of the important reasons why my husband's work is weak and he cannot support us.  
As the days went by, I heard about an organisation that focussed on the empowerment of women and told my husband about it. He gave me his support and encouraged me to join, saying, 'Go, may God change our situation for the better.'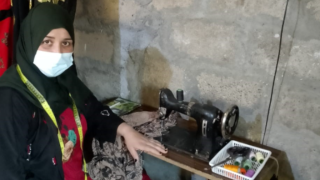 After I enrolled in Women for Women International's Stronger Women, Stronger Nations programme, it was a new life for me.
I gained new friendships with my colleagues and the trainer, learned coping skills, gained self-confidence, I believed in myself and my abilities, I organised my life within the family and became a decision-maker.  
I also learned counting, arithmetic, savings, work skills and project management. After taking vocational training in the sewing department, I learned how to make clothes. At first, I sewed clothes for myself and my daughters and then, once I became a skilled seamstress, I sewed clothes for the neighbours. I hope my work will develop and I will be fully dependent on myself so I can support my family to improve our situation.
My year-long experience with Women for Women International, with the support of my sponsor, was one of the most beautiful opportunities I've ever had in my life. It opened a door for me to start my own business, so thank you for everything. 
Ninety-nine blows to my chest, I was patient and didn't care. 
Ninety-nine times my heart was broken. I resisted it and did not care.
I was stabbed and broken. Between my losses and disappointments, I became stronger.
Do you think I am weaker now?
I am the hurricane. If life is a fire, extinguish it and scatter it. I will not bow down even if the fire is between my ribs...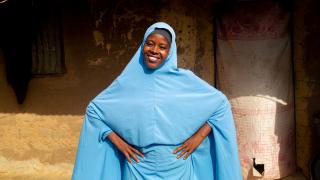 Dada was forced to flee her home when Boko Haram threatened to kill her husband. Now she is a successful businesswoman and a leader in her community.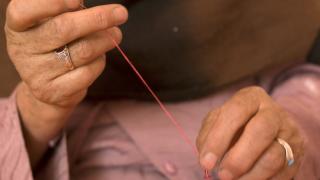 Motivated by the prospect of learning how to make clothes, Sifa joined the Stronger Women, Stronger Nations programme. But it was the lessons she learnt about women's empowerment that helped to transform her life.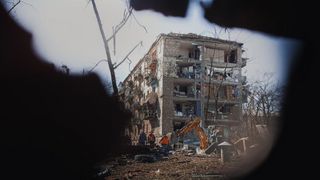 "My name is not Nastasiya. It is too dangerous to tell you my real name." After fleeing the war in Ukraine, 'Nastasiya' says, "We have lost our home, our city and many of our neighbours, but we will not lose our spirit."