You are here:
In Conversation: Coffee and Kleicha with Aram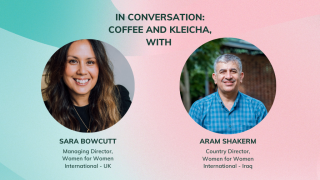 Coffee and Kleicha with Aram and Sara
Thank you for joining our virtual event.
On Wednesday 5th of October, our Iraq Country Director Aram Shakerm and our Managing Director Sara Bowcutt hosted an online event discussing our work in Iraq over coffee and Kleicha (Iraqi date cookies). Audiences learnt how our Stronger Women, Stronger Nations programme helps to tackle food insecurity, with an opportunity to ask our hosts further questions. 
Kleicha Recipe
Make your own Kleicha (Iraqi date cookie)
Ingredients:
For the dough: flour 550g, veg oil 240ml, warm milk 240ml, salt ¼ tsp, cardamom grounded 1 tsp, dry yeast 1 tsp, sugar 1 tsp, nigella seeds 2 tsp
For the filling: date paste 600g, veg oil ½ tsp, cardamom grounded 1 tsp
Method:
Combine 240ml warm milk, 1tsp sugar and 1 tsp yeast then set aside for 5 minutes.
In a mixing bowl combine 550g plain flour, ¼ tsp salt, 1 tsp ground cardamom, 240ml vegetable oil and warm milk mixture – gently mix to form dough.
As dough begins to form, add 2 tsp of Nigella seeds.
Once dough is formed, cover and set aside for 40 minutes.
By hand, combine date paste, 1 tbsp vegetable oil and 1 tsp of cardamom until soft.
Take half of your dough and roll out on a floured surface until approx 3mm thick.
Take half of your date paste mix and placing it between two sheets of greaseproof paper roll it out to match the size of your sheet of dough.
Carefully, transfer your date past from the greaseproof paper to the surface of your dough.
Starting at the top of your dough, roll it down to form a tightly spiralled roll.
Cut your roll into 2in pieces to form the individual Kleicha.
Transfer to a baking tray and brush with a beaten egg.
Bake in the oven for 20 minutes at 180°C until golden brown.
Enjoy!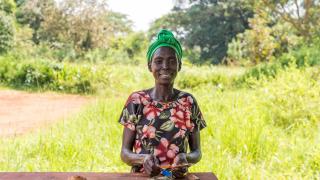 SERVING UP SISTERHOOD
BRINGING MORE TO THE TABLE THAN FOOD
As the impacts of war are being felt worldwide, people in the countries we work in struggle to access food for themselves and their families. If you can, please sponsor a woman survivor of war for £22 a month and help her transform her life.
Sign up before the 16th October and you will receive a FREE copy of our Share Cookbook (RRP £25).