You are here:
Katie's Experience in the Kurdistan Region of Iraq
Arriving in Erbil, Kurdistan Region of Iraq (KRI), I didn't quite know what to expect. I had been told by people who had been there that it was a very modern and safe city…yet telling my family and friends I was going to Iraq tended to receive reactions ranging from awe to fear!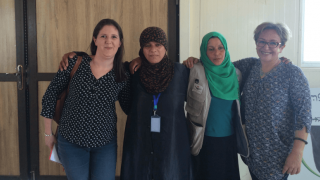 I soon began to see what those who had been here before meant – the area of the city where myself and the Women for Women International office is based, is indeed very modern. There are big tower blocks, wide roads with well-tended garden centre pieces, and a range of shops and cafes that have most things you need. Given I will be here for some time, I was also delighted to find a huge park and a gym within walking distance!
Coming here as a woman, however, made me more aware of my sex than I had been for a rather long time. I was repeatedly told before coming that the biggest safety risk for me was harassment – this is apparently particularly acute for foreigners, but also a common experience for local women. Refugees residing in the KRI are major targets, making them afraid to go out and adding further stress onto their war trauma.
For me, so far so good – I have not had any issues, although I have definitely been aware of the gender dynamics at play. Despite the KRI being a pretty liberal region, there are more men visible in the streets, cafes, and restaurants. When we arrived at one tea shop we were pointed towards the "family" section, but my colleague politely declined and said we wanted to sit where we had a nice view! I was delighted to see that after a few minutes, other groups with women came and sat near us in the main section also.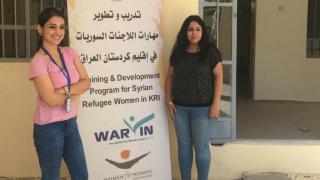 When I arrived, Women for Women International - KRI had just two staff, which has now increased to six! It is a wonderfully diverse and experienced team who I'm very excited to learn more from over the next couple of months.
As part of their induction process, we all carried out a field visit to one of our local partner's projects in Debaga Camp for Internally Displaced People (IDP). The camp is full of people who have fled from areas of Iraq that were facing conflict between IS/Daesh and Iraqi/Kurdish forces, such as Mosul.
For me, this was my first ever time to visit a formal refugee or IDP camp and therefore was very affecting. Driving up, I was almost surprised to see big metal fences surrounding the camp and then a barrier at the entrance – making it look more like a prison than a place of refuge. The many hundreds of tents looked small and very close together, although each probably hosted large families. There are approximately 12,000 people in this particular camp. It felt reasonably well cared for and managed, but I was horrified to think how people were managing to live in tents when temperatures have recently been approaching 50C.
As we arrived at the centre where training was taking place, it was lovely to see it full of women wearing a range of colourful clothes, who all seemed very interested to see us there. Through our local partner, 100 women in the camp are getting the opportunity to attend regular training sessions at the centre on rights, health, gender-based violence, vocational skills (specifically in hairdressing/beauty and tailoring), and business skills. In addition, there are social workers and legal advisers available to support the women as needed.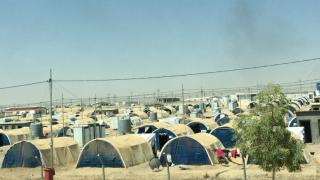 One woman, called Adiba, was particularly keen to talk to us and tell us more about herself. She explained that her husband was killed by Daesh about three years ago. Adiba was living in an area of Iraq subject to heavy fighting and so finally decided to flee to the KRI for safety. She is now living in Debaga camp along with her four children, aged between 7 and 13 years. There is very little for them to do in the camp and it is also very difficult for them to leave it.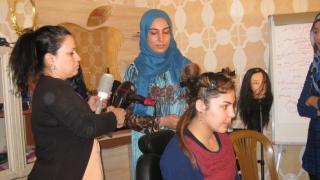 Delivering women's empowerment programme in Erbil
Over the coming months, Women for Women International's team in KRI will be working to begin delivering our own holistic women's empowerment programme for refugee and host community women around Erbil. This is a big endeavour for us, but I feel confident that it is going to have a huge impact on the women we support. I am excited to see it begin and look forward to sharing more updates!
Continue Reading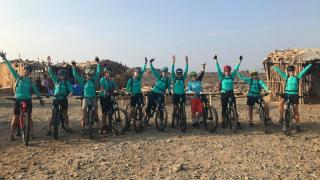 In November 2017, 12 women embarked on a two-week Mountain Biking Expedition across the Danakil Depression of Ethiopia, to raise funds for our work with women in countries affected by conflict.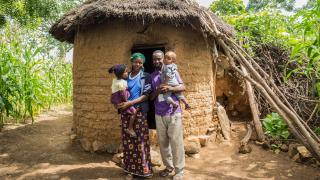 Women for Women International and 20-first are tackling gender inequality and discrimination from countries affected by conflict to boardrooms and homes across the West, making equality everyone's business.