You are here:
Brita Fernandez Schmidt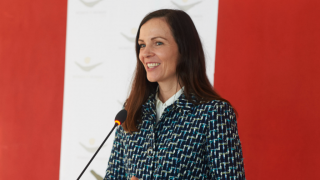 Brita Fernandez Schmidt
Previous Executive Director, Women for Women International - UK
Brita Fernandez Schmidt served as the Executive Director of Women for Women International – UK between 2008-2021. Currently Brita is an Ambassador for Women for Women International (DE). 
Brita Fernandez Schmidt is an advocate and promoter of women's empowerment, women's rights and equality. She frequently writes about the challenges women face all over the world in the context of poverty and conflict. Brita is a public speaker on these issues. She has lived and/or worked in over 16 countries spanning three continents.
Brita has led several influential women's organisations and networks. She served as as the Executive Director of Women for Women International - UK for over a decade. She has grown the organisation from when it first started in the UK to a medium-sized charity, which is helping thousands of women in countries affected by conflict and raising millions through effective and innovative donor relationships and partnerships. Previously she was a Commissioner to the UK Women's National Commission, Chair of the Gender and Development Network, Director for Programmes & Policy at Womankind Worldwide, board member of BOND and she started her career at the European Women's Lobby.
Brita holds a MA in Women's Studies from the University of Sussex. Originally from Germany, Brita went to school in Venezuela. She now lives in the UK with her husband and two daughters.
Watch Brita's interview on TRT World on International Women's Day 2017 where she spoke about our work in response to the global call to 'Be Bold for Change,' and listen to the BBC Radio 4 - Woman's Hour segment where she discusses the impact of our work and the ongoing need to invest in women.
In 2021, Brita published her first book Fears to Fierce: A Woman's Guide to Owning Her Power. 
The women behind the news stories
Brita talks about our work with women survivors of war and how we all have the power to reach out and connect with women.
Fears to Fierce
At TEDxCoventGardenWomen, Brita reflects on her career of working to address gender equality for women all over the world and her journey of helping women recover traumatic experiences and turn their lives around. She shares how these incredible women taught her to nurture her fierce – her power – in the face of her own fears.