You are here:
Charlotte Tilbury - Corporate
Charlotte Tilbury
A Life-Changing Partnership
Celebrated makeup artist and Founder, President, Chairman and Chief Creative Officer of Charlotte Tilbury Beauty, Charlotte Tilbury MBE has been a supporter of Women for Women International since 2014. To date, Charlotte Tilbury Beauty has raised enough to fund over 350 women through our year-long training programme.
As a proud Ambassador for our work, Charlotte's passion shines through the creative ways she has engaged her renowned makeup and skincare brand in raising vital funds and awareness for women survivors of war.
£1 Million Pledge
In 2019, Charlotte Tilbury committed the full force of her business to bringing about change for women in some of the world's most dangerous places by pledging to donate £1 million to Women for Women International.
Thanks to this pledge, we will be able to bring our transformational year-long training programme to new areas and pioneer innovative ways of working with women survivors of war that make an even bigger difference to their lives and their families.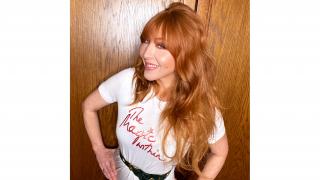 INTERNATIONAL WOMEN'S DAY 2020
To mark International Women's Day, Women for Women International Ambassador Charlotte Tilbury has designed 'The Magic Within' t-shirt as part of NET-A-PORTER's t-shirt collection. 'The Magic Within' was inspired by the power, courage and hope within all women. 100% of profits from the magical collection are being donated to our work with women in war-torn countries.
Charlotte Tilbury also celebrated International Women's Day by hosting two contactless donation devices in Charlotte Tilbury Beauty Wonderlands (Westfield London, Covent Garden London and The Grove LA). Customers were invited in-store to make a donation to women survivors of war whilst stocking up on their favourite Charlotte Tilbury goodies!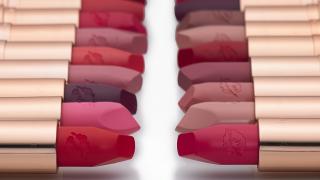 Hot Lips 2
Charlotte Tilbury Beauty have launched the ultimate empowering lipstick collection in aid of Women for Women International. Say hello to Hot Lips 2 – a lipstick collection inspired by 11 rule breakers, record makers and history shakers.
The beauty DNA of icons like Amal Clooney, Kylie Minogue and Sofia Vergara has inspired the collection which is packaged in beautifully designed refillable cases! From the sales of Hot Lips 2, Charlotte Tilbury Beauty are pledging £1 million to help women survivors of war rebuild their lives.
The Hot Lips Collection
In 2016, Charlotte Tilbury created the Hot Lips collection of 12 beautiful lipstick shades, to raise funds for women survivors of war. £1 / $2 from every lipstick sold during the first two months of sales was donated to our work.
The 2016 Hot Lips collection was inspired by women that Charlotte considers to be some of the world's most mesmerising - Salma Hayek, Laura Bailey, Cindy Crawford, Kim Kardashian West, Liv Tyler, Poppy Delevingne, and Helena Bonham-Carter.
Giving Tuesday
For the past two years, Charlotte Tilbury has celebrated Giving Tuesday with Women for Women International by donating 15% of all online sales from CharlotteTilbury.com to our work.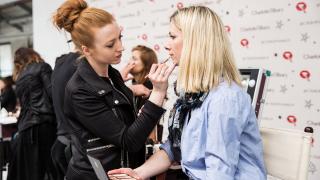 #SheInspiresMe Car Boot Sale
Since 2016, Charlotte Tilbury has hosted an annual beauty boot offering makeovers at our annual #SheInspiresMe Car Boot Sale! All proceeds from the event go to support our work.