You are here:
Our impact - Iraq
TODAY, THERE ARE ALMOST 1.2 MILLION INTERNALLY DISPLACED PEOPLE ACROSS IRAQ, AS WELL AS MORE THAN 200,000 SYRIAN REFUGEES. THE VAST MAJORITY ARE HOSTED IN THE KURDISTAN REGION OF IRAQ (KRI).
We are working to empower the most marginalised and vulnerable women in Iraq. These include women uprooted from their homes by conflict, as well as local women from Kurdish host communities – which are some of the poorest in Iraq. Across communities and religions, the testimonies of the women we serve reveal daunting realities. Many are in financial crisis – rising costs have exhausted their limited savings and assets, and women lack marketable skills and resources to earn an income. Many bear the psychological scars of horrific violence and rights abuses, including rape and torture, in addition to the traumatic loss of homes and loved ones. Our programme will provide women with vital skills, knowledge and resources to create sustainable change in the four key areas of health and well-being, livelihoods and saving, rights and decision-making, and support networks.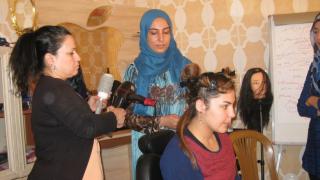 WOMEN EARN AND SAVE MONEY
Women report average net daily earnings of $7.96 per day at graduation, compared to $13.97 at enrolment (USD, purchasing power parity*).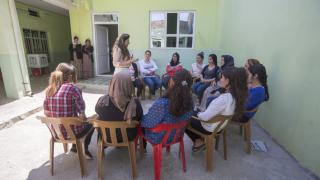 WOMEN INFLUENCE DECISIONS IN THEIR HOMES AND COMMUNITIES
96% of women at graduation reported involvement in decisions about whether to have another child, compared to 85% at enrolment.
Data was provided by 395 participants who graduated from Women for Women International's Stronger Women, Stronger Nation programme in 2021.
*Purchasing power parities (PPPs) are the rates of currency conversion that equalise the purchasing power of different currencies by eliminating the differences in price levels between countries.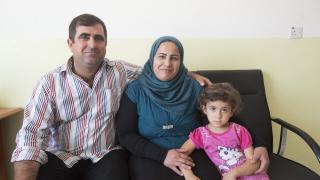 Engaging Men
We are also working to engage the men in these communities as partners and allies in women's social and economic empowerment.
By targeting male relatives, religious, and community leaders, Women for Women International is facilitating critical dialogues that are changing discriminatory attitudes and behaviours toward women.