You are here:
Sponsorship WOAM
The WOAM team visited our Women's Opportunity Centre in Rwanda in 2017.

A team of nine adventurous women from Singapore and Europe embark on a two weeks trek to reach Everest Base Camp at a staggering altitude of 5,364 m (17,598 ft.).

The WOAM team was fortunate enough to stay with the Sakkudei tribe at Siberut Island in Indonesia during their trek in 2019.

Crossing the Danakil Depression was the most gruelling expedition they have undertaken to-date, 200km in 6 days over contrasting terrain with debilitating temperatures reaching up to 50 degrees!
Together we can reach even more women!
This year the Women on a Mission team are calling on you to help them reach their target of 50 new sisters sponsored through our programme by 31st December 2021.
Sign up today and sponsor a sister of your own and help us reach that target, allowing even more women to participate in Women for Women International's life-changing programme.
Your support will help us reach the most socially marginalised women in the Democratic Republic of the Congo, Rwanda, Nigeria, South Sudan, Iraq and Afghanistan. 
HOW CAN YOU SUPPORT US?
SPONSOR A SISTER TODAY AND HELP US HIT OUR TARGET OF 50 NEW SISTERS SPONSORED BY 31st DECEMBER 2021
Make a one-of-a-kind connection
Sponsoring a sister is so much more than a financial commitment. As a sponsor, you will be standing shoulder to shoulder with women survivors of war, sending them a powerful message that says "You are not alone". 
Your support will enable your new sister to join our year-long training programme, where she will develop the skills to tranform her life. Your sister will gain a valuable vocational skill, enabling her to earn an income, as well as learning about her health and wellbeing, her rights and how to build strong support networks. Sponsors even have the opportunity to send their sisters messages of support, building a connection that transcends continents.
Not only will your sister's life be changed forever, but her family and friends will feel the ripple effect of her training and empowerment too. So sign up today and make a life changing and life saving gift! 
We look forward to matching you with a sister as she enrols in one of our programmes in Afghanistan, the Democratic Republic of Congo, Iraq, Nigeria, Rwanda or South Sudan.
Your generous support will help to provide the tools and resources your sister needs to rebuild her life. 84p from every £1 we raise is used to support women survivors of war. In addition to her training, your sister will also personally receive a monthly stipend which she can use to obtain basic necessities for her family, like food, clean water, and medicine; to pay school-related expenses for her children; to build family savings, or to use as seed capital to start a business.
How you'll transform a life
WHAT YOUR SISTER WILL LEARN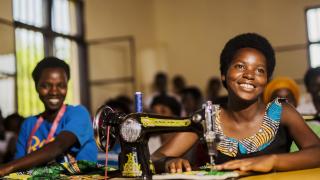 EARN AND SAVE MONEY
Your sister will learn a vocational skill that's proven to earn an income in her local market, such as tailoring, brickmaking or agriculture. She will also learn business skills like book-keeping and budgeting, to help her use this vocational skill to earn money to support her family.
In 2018, participants increased their average daily income from $0.81 at enrolment to $2.12 at graduation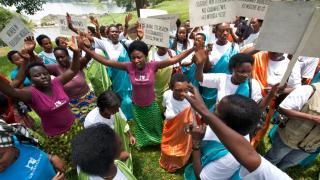 RIGHTS
Women have fundamental rights: to vote, to own land, to divorce, and to inherit property. Your sister will gain knowledge of her rights, as well as learning about gender equality and laws that protect her from violence and discrimination.
In 2018, women's knowledge of their rights increased from 62% at enrolment to 77% at graduation.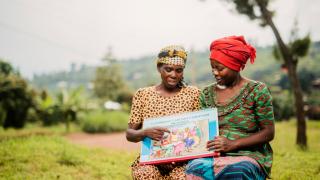 HEALTH & WELLBEING
Women cannot be active members of their communities if they are not physically and mentally well. Your sister will learn about topics including hygiene and disease prevention, family planning, coping with stress and the importance of nutrition for herself and her family.
 Last year on average, women's involvement in decisions about whether to have another child increased from 47% at enrolment to 84% at graduation.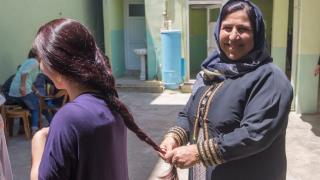 SUPPORT NETWORKS
War and conflict leave women deeply isolated, feeling unsafe to leave their homes and without a safe place to meet other women who have experienced the horrors of war. Your sister will join a class of 24 other women like her. She will make friends, regain her confidence and build a support system.
Over the course of the year, your sister will also receive support from a friend that she has never met – you!