You are here:
Sponsor A Sister
PUT THE POWER OF SISTERHOOD INTO ACTION
Your monthly gift of £22 will help your sister learn skills that can change her life
In these challenging and uncertain times, the importance of community, hope and friendship has never been more important.
These values are the heart of our work at Women for Women International and our commitment to growing a truly global community. 
In 2008, Amela enrolled in our programme, which provided support, training and community for women affected by the legacy of war. She was matched with a 'sponsor sister' from the UK, Brita Fernandez Schmidt, and they began to exchange letters. 
More than 10 years later, Amela and Brita met for the first time – on the porch of her house, overlooking her garden filed with tulips which still return every year.
They remind her of the power of hope in the darkest times, and the bonds of friendship and community that kept her going and gave her strength.
Sign up to sponsor a sister before midnight on Tuesday 3rd November, and we will send your two tulip bulbs to symbolise your connection.
How you'll transform a life
WHAT YOUR SISTER WILL LEARN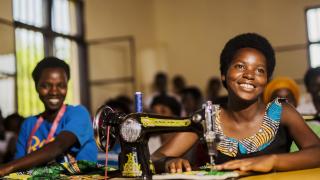 EARN AND SAVE MONEY
Your sister will learn a vocational skill that's proven to earn an income in her local market, such as tailoring, brickmaking or agriculture. She will also learn business skills like book-keeping and budgeting, to help her use this vocational skill to earn money to support her family.
In 2020, participants increased their average daily income from $0.69 at enrolment to $3.51 at graduation.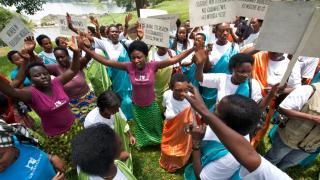 RIGHTS
Women have fundamental rights: to vote, to own land, to divorce, and to inherit property. Your sister will gain knowledge of her rights, as well as learning about gender equality and laws that protect her from violence and discrimination.
In 2020, women's knowledge of their rights increased from 62% at enrolment to 89% at graduation.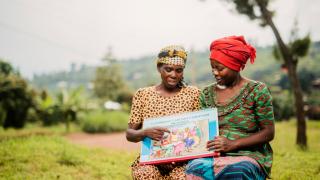 HEALTH & WELLBEING
Women cannot be active members of their communities if they are not physically and mentally well. Your sister will learn about topics including hygiene and disease prevention, family planning, coping with stress and the importance of nutrition for herself and her family.
 In 2020, 94% of women who graduated from our programme demonstrated a correct knowledge of nutrition in food, compared to 74% at enrolment.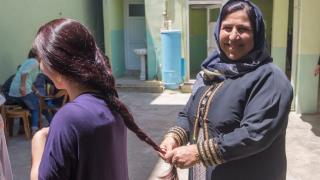 SUPPORT NETWORKS
War and conflict leave women deeply isolated, feeling unsafe to leave their homes and without a safe place to meet other women who have experienced the horrors of war. Your sister will join a class of 24 other women like her. She will make friends, regain her confidence and build a support system.
Over the course of the year, your sister will also receive support from a friend that she has never met – you!