You are here:
Clarissa Ward
Clarissa Ward
Clarissa Ward is a multi-award winning senior international correspondent for CNN based in the network's London bureau.
In November last year she received the prestigious Excellence in International Reporting Award from the International Center for Journalists (ICFJ) for her outstanding war reporting in hotspots like Iraq and Syria.
Ward has distinguished herself with her in-depth, high-risk reporting from Syria. She has entered the country more than a dozen times since the civil war started in March 2011, interviewing opposition activists, members of the Free Syrian Army and ordinary Syrians caught in the crossfire.
Ward returned to Syria in her first assignment for CNN, reporting on the Kurdish YPG driving out ISIS in the northern part of the country. She later travelled undercover to rebel-held areas in Syria - where almost no Western journalists have visited in over a year - in late February 2016 to report on what life is like there under the bombs. Less than 24 hours after arriving, Ward along with CNN producer Salma Abdelaziz and Syria-based filmmaker Bilal Abdul Kareem witnessed an airstrike that left 11 dead. The entire 'Undercover in Syria' series of exclusive, award-winning reports from behind rebel lines can be found at CNN.com/Syria.
In October 2016 Ward travelled to Iraq when the Iraqi-led offensive to liberate Mosul from ISIS control started. She was one of five CNN correspondents on the ground in Iraq covering the ongoing military operation.
Ward, who speaks seven languages including Arabic, French, Italian, Russian, Mandarin and Spanish, graduated with distinction from Yale University. In 2013 she received an Honorary Doctor of Letters degree from Middlebury College in Vermont.
More Information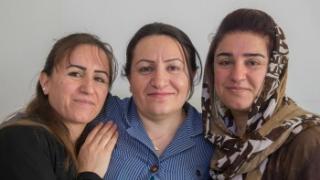 Sign up to our mailing list, and lend your voice to create a chain of inspiration. Together we will use the power of our collective voice to support women in war-torn countries, the most vulnerable women in the world.