You are here:
Car Boot Sale 2017
#SheInspiresMe car Boot Sale 2017
On Saturday 6th May Women for Women International set up shop at the home of London fashion, the Brewer Street Car Park, for a jam-packed afternoon of guilt-free retail therapy.
The annual #SheInspiresMe Car Boot Sale, hosted by Alex Eagle and sponsored by Noor Fares and Venyx, has been dubbed "the most fashionable car boot sale in the world!"
Over 1,200 eager shoppers passed through our doors, picking up exclusive items from leading designers and fashion influencers, including Alex Eagle, Charlotte Olympia, Hikari Yokoyama, MatchesFashion.com, Refinery29 and many more. Bargains included exclusive sample pieces and designer items, with shoppers rummaging through a range of items from floor length dresses to chic t-shirts and accessories.
We are delighted to announce that together London's most fashionable women and some fabulously fashion-forward men raised over £150,000 at the 2017 #SheInspiresMe Car Boot Sale! This incredible amount will enable us to empower and support more women, who have been the most deeply affected by war, violence and poverty.
Women for Women International's boot at the #SheInspiresMe Car Boot Sale 2017. Photo credit: Cristina Rossi Photography

Shoe rack at the #SheInspiresMe Car Boot Sale 2017. Photo credit: Oliver Rudkin

Guests at the #SheInspiresMe Car Boot Sale 2017. Photo credit: Oliver Rudkin

Supporter boot at the #SheInspiresMe Car Boot Sale 2017. Photo credit: Cristina Rossi Photography

Supporters at the #SheInspiresMe Car Boot Sale 2017. Photo credit: Cristina Rossi Photography
Photos
Check out a selection of pictures from the day on our Flickr account and keep an eye on news of future events and next year's sale by following us on Facebook, Twitter and Instagram.
Our Supporters
WE ARE INCREDIBLY THANKFUL TO OUR WONDERFUL HOSTS, SPONSORS, COMMITTEE, AND SUPPORTERS, WITHOUT WHOM THIS WOULD NOT BE POSSIBLE.
Alex Eagle, Alexandra Meyers, Alexandra Smet, Alice Naylor-Leyland, Alice Temperley, Anna Foster, Annabel's, Anoushka, Artbuddies, Bay Garnett, Belma Gaudio, Bespoke Your World, Brides Do Good, Brewer Street Car Park, British Fashion Council, Charlotte Olympia, Charlotte Tilbury, Clara Mercer, Cristina Rossi Photography, CRU Kafe, Cucumba, Curation Wall, Daniela Agnelli, Edeline Lee, Elizabeth Saltzman, Emma Grede, Eugenie Niarchos, Federica Fanari, Fjura, goo.ey, Hemsley and Hemsley, Hikari Yokoyama, Jade Parfitt, Jill DeMasi, Kim Whyte, Kurt Geiger, Lesley O'Mara, Lydia Forte, Malone Souliers, Maria Kastani, Mark Wadhwa, MatchesFashion.com, Max Mara, Mercedes-Benz, Michael Kors, Michelle Lu, Mimma Viglezio, Miranda Almond, Moncler, Neal's Yard Remedies, Noor Fares, Owa Yurika, Paradise Row, Pippa Vosper, Portas, Prada, PROPERCORN, Quentin Jones, Rainbowwave, Red, Refinery29, Roger Vivier, Samata, Serefim London, Serena Hood, Sibylle Rochat, Simone Rocha, Skinny Dip, Sophia Pasetti, Stella McCartney, Tamara Rothstein, The Braid Bar, The Store, The Store Kitchen, The Vinyl Factory, Tiphaine De Lussy, TOD's, Valery Demure, Venyx, Vestiaire Collective, W11 Studio, Wendy Yu, Yana Peel, Zara Martin and Zoe Kuipers.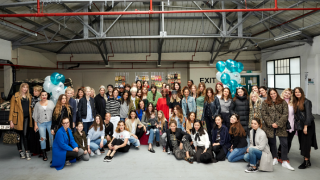 LEARN MORE
Who made this possible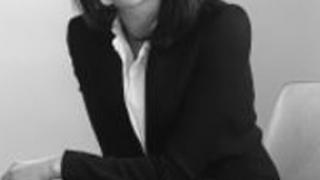 The creative director
Alex Eagle is driven by a fascination for timeless objects and fashion that eschews trends, rather focusing on provenance and expertly crafted design.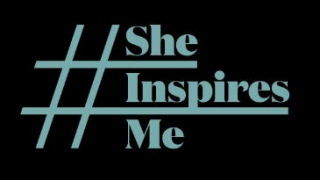 The campaign
From women survivors of war to our closest friends and family, #SheInspiresMe celebrates the vital contributions that all women make – not just because women's voices and achievements are so often unheard and overlooked – but because elevating women strengthens the social fabric of societies everywhere.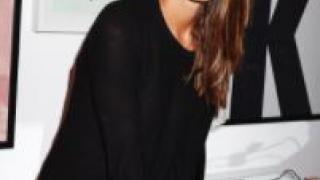 The artist
Quentin is an artist and filmmaker whose quirky stop-motion animations have been snapped up by fashion brands such as Chanel, Victoria Beckham, Kenzo and Louis Vuitton.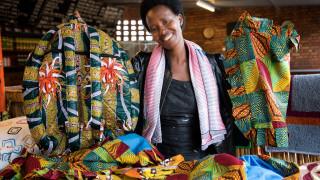 Host your own!
The #SheInspiresMe Carboutique, a fundraising event much like a clothing swap or rummage sale, is a new and unique way to support Women for Women International and an exciting way for you to empower marginalised women survivors of war.