You are here:
Short Story about Sisterhood
This blog was written by Amina Mašić, a blogger and a participants of the Žene za Žene International's Democracy Academy. Žene za Žene International is a locally registered NGO affiliated to Women for Women International in Bosnia and Herzegovina, where the organisation started in 1993.
In 2009, Brita Fernandez Schmidt signed up to sponsor her first 'sister' through Women for Women International's year-long training programme. She was matched with Amela, a Bosnian woman struggling with the legacy of conflict, which had left many women trapped in a cycle of poverty, isolation and depression. 
In 2018, Amela and Brita met for the first time. Their story created a true ripple effect of inspiration. When Amina heard it, she felt so moved by their story that she decided to share it on her blog. You can read the translated version of Amina's blog below. 
 
Her name is Amela. She lives in Bosnia and Herzegovina. Equally made of dusk and dawn. Her soul smells like tulips. It stands upright even when she tightens the fear in her fists.
In 2009 Amela joined the Women for Women International one-year programme. She got a sister from the UK who sponsored her for the next year and helped put the sun in her window. And it shone upon her. Amela never saw her sister from the UK, but she felt her soul and kept her in her heart like a little note "reserved" on a table in the quiet corner of a restaurant. In the inside world of loss, external noise, vanity, competition and "I don't care" attitudes, women - strangers from different countries, who became sisters, exchanged letters.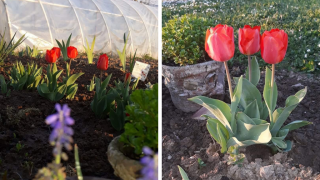 In one of her letters, Amela wrote that she had bought tulips seeds and planted them in her garden. They would always remind her of her sister.
Her name is Brita. She lives in the United Kingdom. She's Amela's sister. The stars are falling out of her pockets. Her eyes are glowing. And the sun's nature is to shine. Her arms are spread like a kernel so that with the weakest wind you can reach with her the most beautiful places. In 2009, Brita decided to shine on Amela's journey  to help her to get where she wanted.
Both of them have arrived where every soul wants to be. To happiness, connection, beautiful emotions, unconditional love, and feelings that you can finally say - it was worth it. On her bracelet Brita engraved "Amela" as a reminder that what she was looking for was not somewhere out there, but within herself.
Almost ten years later, with the help of wizards that used their pixie dust in packages in such moments, Brita and Amela found each other and met in person for the first time. They were reinvigorating each other's souls once again.
The two women who had never met before, hugged each other as real sisters. They cried tears of joy. They talked to each other as best friends do. They transferred one another's power and positive energy. They made each other happy. They put all of their being at disposal to one another.
Amela described this encounter with the words: 
I feel really in love, but with my life!
Is there a better awareness that tulips flourish every year and remind you that you have someone who will always give you a hand when it hurts?
Can you believe that you can love someone without ever seeing them before and that this love is so powerful and important?
Believe.
Only when you believe, miracles will happen.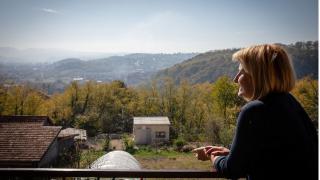 GIVE THE GIFT OF A BRIGHTER FUTURE
Sponsor a sister during the month of October and we will send you two tulip bulbs to symbolise the connection between you and your sponsored sister.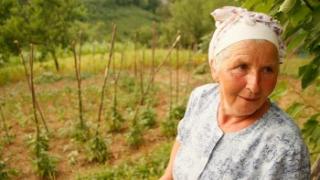 Since 1993, Women for Women International and Žene za Žene International have reached 61,911 women through our work in Bosnia and Herzegovina.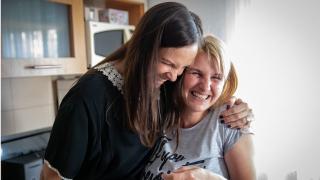 In these uncertain times, the importance of community, hope and friendship has never been more important. These values are the heart of our work and our commitment to growing a truly global community.