Jimmy Choo
Standing with women survivors of war
Founded in 1996, Jimmy Choo is a luxury, award-winning fashion brand with shoes at its heart, offering an empowered sense of glamour. In 2020, Jimmy Choo started supporting Women for Women International by participating in NET-A-PORTER's International Women's Day collection. The brand designed a t-shirt, with the slogan CHOOS WOMEN, where 100% of profits are donated to helping women survivors of war rebuild their lives.
We are thrilled that the Jimmy Choo Foundation – dedicated to empowering women through education and enterprise – has now announced an ongoing global partnership with Women for Women International. Comprising of an annual company donation, employee engagement programme and a series of bespoke brand activations, the partnership will raise vital funds for vulnerable women, inspiring hope for the future.
Sandra Choi, Creative Director at Jimmy Choo said:
"Women have always been at the core of the Jimmy Choo brand, and as a company, we feel passionately about creating a world where education and enterprise for women can develop the confidence and optimism to dream and achieve."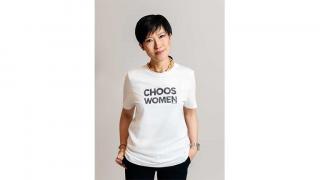 International Women's Day 2020
Jimmy Choo was one of 20 iconic brands and female designers involved in NET-A-PORTER's International Women's Day collection.
The t-shirt design is an irreverent wordplay on CHOO with a call to action to support the sisterhood of women across the world.
Continue reading
Our corporate partners play a fundamental role in helping us achieve our mission. Our partners use their platforms as a voice for the global sisterhood, engage their staff, customers and followers in our work and raise vital funds for the women we serve.
By fundraising for Women for Women International, you can make a real difference for women survivors of war. Your efforts will help women in our programmes to rebuild their lives and inspire hope for the future.